As I've written about extensively on this blog, travel "projects" are one of the things I love. (The latest on all of my travel projects can be accessed from the navigation bar, under "Travel Projects" or by clicking here.) The first project that I completed was visiting each presidential museum curated by the NARA.

To complete the project and visit all 13 presidential museums, it took:
1 year, 5 months, 23 days, 2 hours, 59 minutes, 0 seconds.
Approximately 16,738.8 miles of travel.
20 flights flown.
8 hotel rooms slept in.
9 rental cars.
My initial goal was to complete this "project" in less than one year. This would have been possible, but I elected not to finish in a year as I wanted to see the Eisenhower Museum in Abilene, Kansas only after renovations to the museum had been completed.
Before I get into the actual libraries and their rankings, though, I'll offer a bit of general advice for visiting the libraries:
Buy a presidential museum passport even if you have a cursory desire to see all of the libraries. It makes for a great, small, inexpensive souvenir, if nothing else. (And if you ever find yourself making it to all of the museums, you'll regret not getting the stamp in your passport.) Best case scenario–if you complete the passport and get it stamped at each location, you'll be given a cool crystal paperweight!
Buy a membership to one of the libraries if you plan to go to more than one of the libraries, the membership gets you in everywhere. (This usually pays for itself after 2-3 visits to presidential libraries.)
Save your tickets. This is another great, small, inexpensive souvenir, and all of the tickets are the same size and sort of "match" each other.
Always check the websites of the libraries before visiting. Nothing will be as accurate about communicating information about the libraries' hours and renovation status than the websites themselves. (They're all linked below.)
Below, I'll describe my experience at each, and rank them in reverse order–from my least favorite to my favorite–with my favorite at the end of this article. (Please note that I'm not ranking my favorite presidents, but rather presidential libraries.)

#13 – William J. Clinton Presidential Library and Museum
1200 President Clinton Avenue, Little Rock, AR 72201

It's a modern, impressive facility with a cool aesthetic to it, but it doesn't contain much substance.

A big part of the reason that I went to all of these museums were the history associated with them and the cool artifacts that they contain. This museum has very few artifacts (most of what I saw were letters from famous people–the coolest thing I remember seeing was Clinton's saxophone) and isn't very honest about the negative parts of Clinton's presidency. Example: there's only one case dedicated to "The Impeachment Battle" and focuses on impeachment and how it was a product of "excessive partisanship" but barely mentions Monica Lewinsky, and certainly doesn't address what happened.

Really, the end product is just not honest. But–sadly–this isn't unique to Clinton's museum. After leaving office, ex-presidents control their message and try to shape their legacy. In these circumstances, more often than not, honesty can take a back seat.

Further, you shouldn't have to pay a penny extra to have to have your picture taken in the replica oval office. There's something wrong with that as well.

While it is my least favorite museum, that doesn't mean that it's still not worth visiting.

Allow for about 2 hours to visit this museum.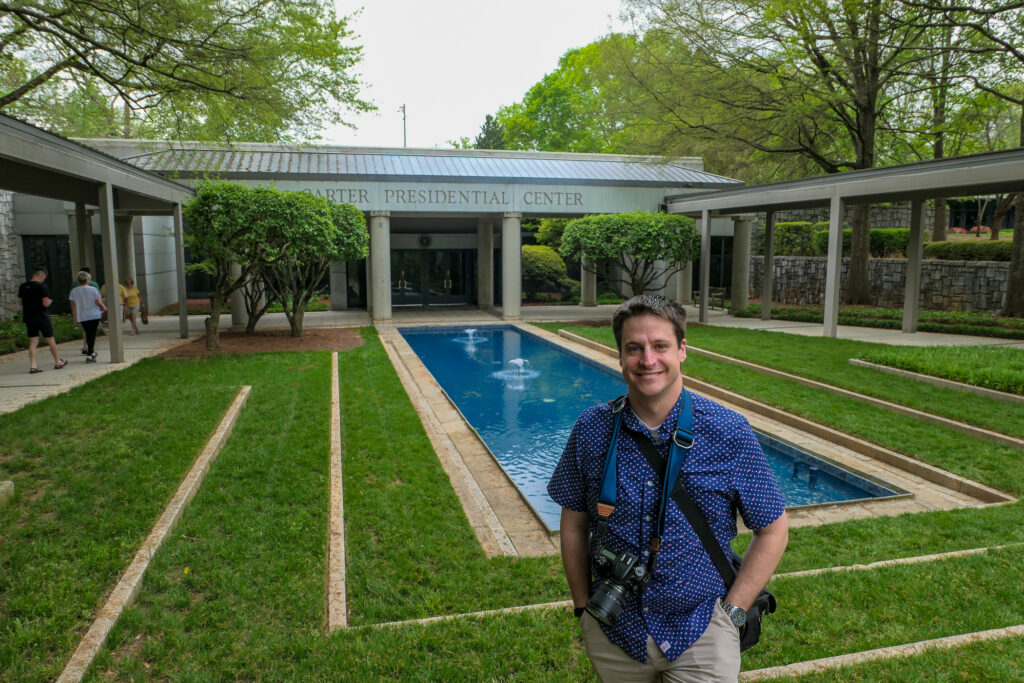 #12 – Jimmy Carter Library and Museum
441 John Lewis Freedom Pkwy NE, Atlanta, GA 30307

The grounds of the Jimmy Carter Library and Museum are very pretty and surrounded by historical markers, but the museum itself is small, short, basic, and unimpressive. (Kind of like Carter's presidency as a whole… Ba-dum-tiss… Okay–I'll keep the cheap shots to a minimum.)

It has its moments, though. There are a few more artifacts in this library than the previous one, which (like all the others) follows a timeline format. It has a good amount of interesting stuff from Carter's early life. It has a very nice oval office model (like most of the others). In the middle of the museum (during the portion of the "timeline" that represents his presidency) there is a tall rotunda where the archives can be seen through glass that has a number of exhibits that discuss the years of Carter's presidency. There's a lot of impressive multimedia here, and a handful of artifacts from other presidents. In the following sections in the museum, they discuss the Panama Canal Treaty, the Camp David Accords, and the end of his presidency.

However, I don't feel that it did a good job of conveying the general sentiment of Americans when he became president, which I think is a very important lesson about Jimmy Carter–perhaps the most important lesson that the library should teach.

Worse still, I feel as there was a good amount of dishonesty in the museum. (However, as you'll read in this article, I feel like this is true about all of the presidential libraries that I visited while their respective president was still alive, probably due to their influence on the museum.) If you went on the historical account described in this museum, you'd think that Carter freed the hostages in Tehran. (And if you believe that, I'm sorry, you're a victim of revisionist history.)

What's probably the worst overall is that Carter was probably one of the best post-presidency US Citizens, and there's very few artifacts and stuff that really illustrate how he's made the world a better place after leaving office. There's some "Habitat for Humanity" type stuff, of course, but the exhibits could be a lot better and there should be a lot more of them. I feel like Carter deserves a lot more attention here, and a lot less attention on his disappointing presidency. To get a better feeling for Carter the citizen, you're better off driving 2 and a half hours south of the presidential center and giving the small town of Plains, Georgia a visit.

Allow an hour and a half to see this museum.

Apologies to those who realized that I had initially truncated this part of the article, and thanks to "Paul" in the comments for pointing out the error and reminding me to fix it!


#11 – George W. Bush Presidential Library and Museum
2943 SMU Blvd., Dallas, TX 75205

Like the Clinton museum, the George W. Bush museum is a very impressive facility with some really cool audio/video effects and some high-tech displays. (This should be expected, as it is one of the 2 newest museums in the system.) The museum is laid out in the timeline format, and is designed well to help visitors experience the events of Bush's administration as they unfolded–in some cases in a particularly powerful way. (The September 11th exhibit sneaks up on you from around a corner in an imposing way–much like the event did to those of us who watched it unfold live. I'll admit that I may be somewhat biased about the audio / video effects of this museum, though–when I was in sales, I helped design the A/V premise wiring for this museum.)

The museum has a whole a/v heavy room dedicated to reviewing different decisions that Bush made in his presidency, providing you with the facts of the situation (as provided by advisors) and places you in Bush's position, asking you to make the right decision forward, and comparing your response to what Bush actually did. Notable artifacts here include some iconic items from September 11th, including the remains of some support beams from the World Trade Center, the megaphone Bush used to address ground zero on his visit after the attacks, a number of items from his white house, state gifts, and more.

So–why is this lower on my list? While the museum offers some very high-tech experiences, there's only a few notable artifacts, and much of the museum is really more of an emotional appeal to the visitors. Additionally, it falls victim to being biased a bit in George W. Bush's favor–though less so than other presidents whose libraries that I visited while they were still alive. (I also wish it would have more content on Dick Cheney as well.)

Allow an hour and a half to see this museum. Security here is much tighter than elsewhere, so make sure you don't have a pocket knife on your person when entering the museum.

#10 – Herbert Hoover Presidential Library and Museum
210 Parkside Drive, West Branch, IA 52358

Sadly, Hoover's presidency isn't much of a focus in American History classes. So, in retrospect, I probably learned the most history in this museum.

This is one of the most remote museums to visit, and is most interesting in that it describes the period of time most distant from the present time out of all the NARA museums. Comparing this to some of the newer museums, you can really get a good feel for how much times (and the American presidency) has changed.

History was not kind to Herbert Hoover, largely because of the dominant force of FDR after him. Hoover was largely made into the scapegoat for the Great Depression, and I don't think it is fair to assign him that responsibility. But, FDR did in his campaign and that worked quite well for him. (They discuss this in the museum.)

The main reason that this museum is farther down the list is that the exhibits are pretty dated–I don't think the museum hasn't had an update in almost 30 years–and I think some of the exhibits have not changed since the 70's. And it shows. But–the content of the museum is good. It straddles the partisan line a bit by discussing (negatively) FDR's politics, but I have a hard time trying to find anything other than fact within the content. They also don't have a replica of the oval office (as FDR was the first to even have one–which led to the eventual passing of the Presidential Libraries Act of 1955, as well as the ones that followed…), but they do have a replica of his office in his suite at the Waldorf in New York City where he lived in after his presidency.

Further, it should also be noted that the grounds of this museum are housed on the Herbert Hoover National Historic Site. His birthplace and hometown are well preserved, and you can walk through the small, 2-room house that he was born in. (Again–this well illustrates how drastically different the world was when Hoover was alive.) His gravesite overlooks a beautiful park, his library and museum, his birthplace, and his home town.

Allow an hour and a half to 2 hours to see the museum, and a minimum of an hour and a half to see the national historic site surrounding it.

#9 – Harry S. Truman Presidential Library and Museum
500 W. U.S. Hwy 24, Independence, MO 64050-1798

My presidential museum quest started at the Harry Truman museum. I gained a lot of respect for Truman during my visit here. I previously wrote about this museum on my Kansas City post, so I'll replicate my discussion of this museum here:
The third completed presidential museum in the NARA system (after Roosevelt and Eisenhower–Hoover's would come later), the Truman presidential museum is the first in the system that has all of the quintessential facets of what we think about when we consider the modern presidential library and/or museum (a replica of Truman's oval office, Truman's grave, an introductory video, etc). I would argue it's the first "modern" Presidential Museum.

As such, the museum is quite well presented for a presidential museum–very little bias is presented in the exhibits of the museum, and the president's life and actions are viewed in a very honest light. Both Truman's strengths and weaknesses are clearly on display, and the content doesn't pull any punches. The museum describes a time when partisan politics had not stooped to the level in the country that they are today–though some of the politics that come with the position can be seen subtly and implicitly within some of the exhibits. (Example: An impressive Thomas Hart Benton mural greets visitors upon entering the museum–likely to compete with the murals that encompass visitors upon entering political rival Dwight D. Eisenhower's presidential museum in Abilene, KS.)

Don't-miss items in the museum include the Benton murals, the "Dewey Defeats Truman" Newspaper, the Museum's Norman Rockwell painting, "The Buck Stops Here" sign from atop Truman's desk, the safety plug from the "Fat Man" atomic bomb used on Nagasaki, and Truman's grave.

Allow for at least 1 and a half hours at the museum. Note that the museum is temporarily closed, in order for the entire museum to be renovated. The museum is projected to be re-opened in it's renovated facility in about mid-2020.

From previous Joe's Bucket List "Kansas City" Post: https://www.joesbucketlist.com/2019/11/27/kansas-city-mo/

#8 – Dwight D. Eisenhower Presidential Library and Museum
200 SE. Fourth Street, Abilene, KS 67410-2900

My presidential museum quest ended at the Eisenhower presidential museum, as they began to renovate the museum while I was traveling between libraries. (I saved the last stamp for the George W. Bush museum as I live in Dallas.)

Upon entering the museum, you are greeted with colorful murals on every wall, showing the history at the time of Eisenhower's life and presidency. You then walk around the museum (which re-opened in mid-2019), which is in a timeline format.

This presidential museum is the least like the other presidential museum in that the focus isn't really on Eisenhower's presidency–rather, the focus is on Eisenhower's military career. The result is a good collection of World War II artifacts, including some really awesome artifacts related to the war, and (of course) artifacts related to Eisenhower's actions in the war. (My favorite item on display was probably Eisenhower's 1942 Cadillac Staff car, though a close second goes to the large dining table and chairs that Ike worked with his staff to plan the D-day invasions. An honorable mention is in order for the uniforms and firearms on display.)

The museum is surrounded by a picturesque campus, set around Ike's birthplace. Ike's final resting place is in a chapel on the site as well.

Allow at least an hour and a half to see the museum, but allow for an extra hour to see the entire campus. Be sure to go into the library building and look at a couple of artifacts in there as well–specifically, the cross section of the Eisenhower tree from Augusta national golf course.

#7 – Gerald R. Ford Presidential Museum
303 Pearl Street, Grand Rapids, MI 49504-5353

Out of all of the presidential museum, the Ford museum was the most surprising to me. It's the only museum that is in a separate location than the president's library (people tend to confuse the two–and refer to the museum as the "presidential library") and it is in Ford's old congressional district–downtown Grand Rapids, Michigan.

Both the City of Grand Rapids and the museum were pleasant surprises. The City of Grand Rapids is a good sized, very pretty, clean town with a very nice downtown. (I regretted not being able to spend more time there!) The museum was loaded with great artifacts and outstanding content. I gained a ton of understanding for Ford's administration and tons of respect for Ford while visiting this museum. There are tons of artifacts on display here–and a lot more than you would think, given that much of Ford's tenure is easy to forget.

Many don't realize it, but Ford is the only president that we have who was not elected. (To get into office, Ford wasn't on a ballot as either a nominee or a running mate. This was the first and only time that this has happened, as of this writing.) After visiting this museum, I think he was ultimately one of the best, as he was a consummate public servant and really strived to do what was right for the country with no personal agenda. History hasn't been too kind to him (after the Nixon pardon), and this museum tells his story quite well.

Allow 1 and a half to 2 hours to see this museum.

#6 – Lyndon Baines Johnson Presidential Library and Museum
2313 Red River Street, Austin, TX 78705-5702

There's a certain grandeur that you experience when walking into Kennedy's or Johnson's museum–both are very tall and imposing. They both sport buildings which I would personally classify as being retro-futurist. They really look like the 60's. This is a great and authentic thing.

It's big on the inside as well–and it is very well presented. (Aside from the opening video–I don't care for the opening video, as I believe it puts Johnson in a far more flattering light then what he really deserves.) It is loaded with some very cool artifacts from Johnson's time in office–multiple different pens used to sign pivotal bills into law (and even the pen Eisenhower used to sign NASA into law), the missal that he placed his right hand on when taking the oath of office, the suit that he wore and the dress that Ladybird wore when he was sworn in, a moon rock from Apollo 15, the actual teleprompter reel from Johnson's famous "I shall not seek and will not accept" speech, etc.

Aside from the introductory video, I felt like the museum was actually quite honest and serves pretty well as a time capsule of the turbulent times.

Allow 2 hours to see this museum.

#5 – George Bush Presidential Library and Museum
1000 George Bush Drive West, College Station, TX 77845

The George H.W. Bush museum is great. The museum is loaded with artifacts from all of George H. W. Bush's life, and discusses all aspects in great detail. As per usual, they have exhibits like one of his limos and the replica oval office, but they have so many other great things that illustrate his life. His briefcase that he used as CIA director, a Grumman TBF Avenger (the airplane Bush flew and was shot down in during WWII), his boat from his time in Kennebunkport, Maine, and so many other cool things.

One of the often missed things is the sculpture in front of the library "The Day the Wall Came Down" which is a sculpture built with a fragment of the Berlin wall. (Another larger section of the wall is in the museum.) The museum is to expand soon to include one of the Boeing 747 "Air Force One" airplanes (used by Bush, his son, Clinton, Obama, and Trump) after it is retired from service. I'm really looking forward to returning to see this exhibit when it is built.

Allow 2 hours to see this museum.

#4 – Richard Nixon Presidential Library and Museum
18001 Yorba Linda Boulevard, Yorba Linda, CA 92886-3903

Not unlike Nixon's departure from the presidency, there was great controversy about building this museum. I'm very glad they did, as it is one of the very best of the bunch. The grounds are beautiful and the museum is loaded with artifacts from Nixon's administration. Additionally, the museum is very honest–pulling no punches on the Watergate scandal.

I think the museum does a great job of putting it all in perspective, as well. Nixon, as a leader, was really outstanding in many ways even before he was president, and the museum honestly examines these topics.

There are two different groups who are responsible for operating the museum, and this has caused some interesting conflicts regarding the museum (especially when the federal government closes–parts of the museum remain open, and others close), but I think that this has helped ensure that the museum remains honest, non-biased, and of a higher quality than most of the other libraries.

In addition to the facets that a presidential library would normally have, Nixon's birthplace and grave are located on the premises, as well as the Army One Sikorsky "Sea King" helicopter that he left the White House for the last time in. The grounds are beautiful.

Allow a minimum of 2 hours to see this museum. I ended up spending 4 hours, but took my time around the museum and the museum grounds.


#3 – John F. Kennedy Presidential Library and Museum
Columbia Point, Boston, MA 02125-3398

This museum is huge and impressive. Upon walking into the main atrium, you'll admire the huge American flag hanging from the ceiling while getting a panoramic view of the Boston skyline. It is a cool sight.

The informative video is very helpful to help understand Kennedy's background, and then to walk through his presidency. The museum tells the story well and brings his presidency to life mainly because it it littered with artifacts. This includes (in no order whatsoever): The handwritten index cards he read from in the "Ich bin ein Berliner" speech, the shard of coconut shell that he wrote on while in the Navy that led to his rescue, golf items that Kennedy played with, his sunglasses, his neckties, and the Freedom 7 capsule. Dishonesty creeps in the exhibits occasionally (lots of praise is placed upon Kennedy for his handling of the Cuban Missile Crisis, which I find kind of ridiculous), but for a most part, the exhibits are pretty much straightforward.

My main complaint about this museum was that Kennedy's assassination was barely covered. Visitors walk through a black hallway with a couple of small video screens showing scenes from Kennedy's funeral. While the exhibit conveys the emotion of the time, almost no substance is provided on this topic for visitors.

Allow 2 hours to see this museum.

#2 – Franklin D. Roosevelt Presidential Library and Museum
4079 Albany Post Road, Hyde Park, NY 12538-1999

If you think about it, it isn't surprising that the first presidential library and museum is one of the greatest. The presidential library system was established in 1939, when FDR donated his records and this facility to the federal government.

The result is this facility, which has an extra level of authenticity to it. Here, you can see the actual fireplace that FDR sat next to while delivering many of his fireside chats. You can also see the microphone used as well. In fact, I figure that it is likely that FDR's office being in this location led to the more modern presidential libraries having their respective replicas of their oval offices.

You can also see how the political parties of yesteryear are vastly different than the ones we know today. You learn how FDR rose to the presidency, and how managing the perception of the public in those days were vastly different than they are today. You also can see many of the "sins" of our country's past—how Roosevelt felt he had to be racist with his personnel selections in his administration to save face with our pre-civil rights country.

A major part of the museum illustrates the US and the US war effort in WWII happening during Roosevelt's administration. This is also well done—where Eisenhower's museum focuses more on the "boots on the ground" abroad, the Roosevelt museum appropriately focuses more on the political home front side of the war.

It is a long museum… as FDR was elected 4 times. Overall, it is a great facility in a beautiful area with some very cool things around it in the Roosevelt-Vanderbilt National Historic Site.

To see the museum alone, allow at least 2 and a half hours, at a minimum.

#1 – Ronald Reagan Presidential Library and Museum
40 Presidential Drive, Simi Valley, CA 93065-0699

In my opinion, the Reagan Presidential museum is the granddaddy of all of the presidential museums. Not only does this museum have all of the quintessential parts of a presidential museum (timeline exhibit format, oval office replica, the bible he took the oath of office with, his final resting place), it is positively brimming with interesting artifacts (like the suit that Reagan was wearing when he was shot, all of the diaries he kept track of all notable events in, Reagan's suit and notes from his famous Brandenburg Gate speech), including ones you can walk through ("Air Force One," the Boeing 707 with the tail number 27000) and even eat in ("The Ronald Reagan" bar.) There's even an introduction to the museum that uses holographic technology that brings Reagan to life.

The result is remarkable. From when you first arrive at the museum and start to make your way up the tall hill, the lampposts are all decorated with pennants of presidents of the USA. As I passed these lampposts, I couldn't help but feel a deep level of patriotism.

In every aspect of the museum, you can tell that Reagan loved the United States of America. It comes through clearly as you arrive, walk through, and leave the museum. And the pride will follow you home.

Also, as honesty of presidential museums is discussed here, I think the Reagan museum does a good job of acknowledging the more negative aspects of the Reagan administration in an honest way–specifically, the Iran-Contra affair.

All in all, it's "head and shoulders" above the other ones. (I'm hoping with the 747 being added to George H.W. Bush's museum makes that museum even cooler than it was initially.) I did my best to save this museum for last–a venture that I was almost able to keep to. This was a great idea, as going to this museum spoils the other museums as they aren't able to compete with this one.

Allow an absolute minimum of 4 hours to see this museum. It's best to plan on an entire day at the museum.