We love our food in the United States. Some of our foods and drinks have transcended into being almost legendary in stature. The places on this list represent destinations that are representative of this transformation.
At the very end, I've included a bunch of Honorable Mentions, as well.
10. Dr. Pepper Museum, Waco, TX
Waco is where Dr. Pepper was first made at a corner drug store, over a year before the invention of Coca-Cola in Vicksburg, Mississippi. (More on Coke later.) The city is also home to the building that housed the first bottling plant made specifically to bottle Dr. Pepper. In the early 90's, that same building was re-purposed to house three stories of exhibits dedicated to the soft drink Dr. Pepper.
Today, the Dr. Pepper Museum is a lot of fun to walk through and see some of the artifacts that shape the history of the beverage. There are historic bottles on display, some exhibits displaying the marketing and how it has changed over time, as well as the "well" of the building. The museum is fun to walk through for about an hour and a half and has some neat photo opportunities. It's an absolute must-visit for fans of Dr. Pepper.
9. 9th and Passyunk, Philadelphia, PA
Readers of this blog know that I'm quite a fan of visiting battlefields. For me, it is interesting to walk around a battlefield and see where the battalions lined up and how the battle was fought. I'm always drawn in by the organization and tactics of the generals commanding either side–or sometimes, their lack of tactics and organization.
9th and Passyunk in Philadelphia represent a very different kind of battlefield indeed, but no less of one. Cheesesteak sandwiches are so tied to Philadelphia that the sandwich is named for the city. While their origin is somewhat debated, it is widely thought that the first cheesesteak was created by brothers Pat and Harry Olivieri, who made a different kind of sandwich (replacing his usual hot dogs) which he sold at the Italian Market in 1933. These steak sandwiches became popular, so the brothers opened another store to focus on selling them. The store is on this corner and is named "Pat's King of Steaks." It still operates there to this day.
Across the angular intersection from Pat's is Geno's Steaks, which opened in 1966. This created the full-fledged food battle that rages to this day. They're both good. However, this author slightly prefers Pat's King of Steaks, but does concede regardless that true Philly Cheesesteak Sandwiches have Cheese Whiz on them.
Note: My grandfather accidentally helped invent Cheese Whiz, so I don't care about your religious zealotry about how Cheese Whiz is not "cheese." So, no, I'm not returning your hate mail.
8. Harland Sanders Café, North Corbin, KY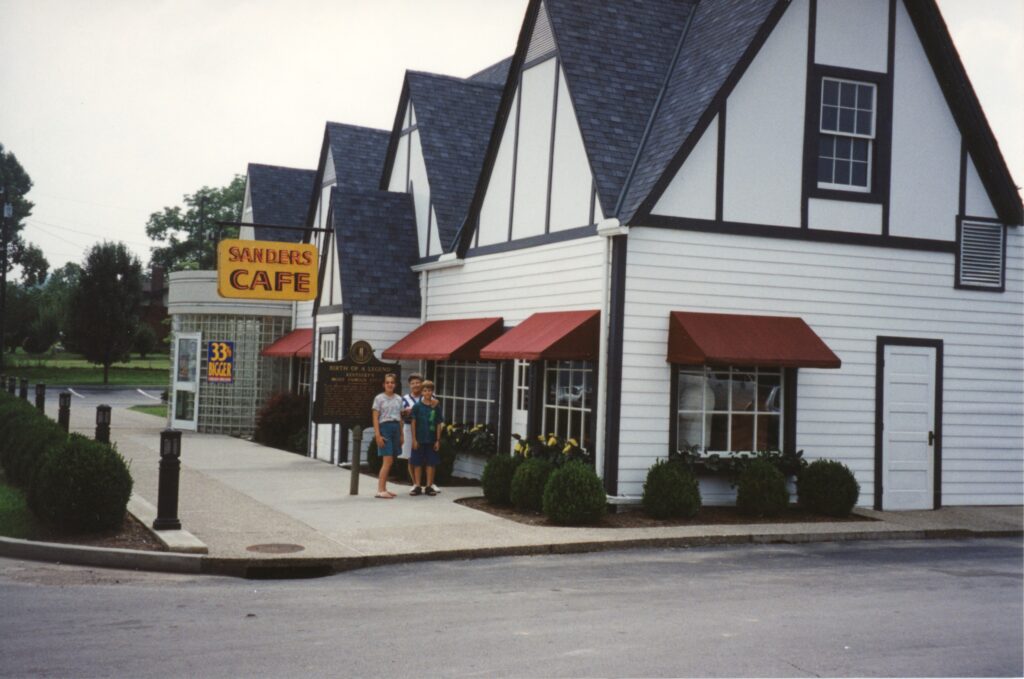 It's been a while since I've been to this location (as you can see), but this is a great one.
This is the location that the Shell Oil Company offered to Colonel Harland Sanders in return for a percentage of the sales. Sanders served meals to travelers at this location. The location was originally destroyed by fire in 1939, but was rebuilt here (and run by Sanders' Mistress, Claudia). By 1941, he had perfected his "secret recipe" for pressure cooking chicken, which led to the KFC that most around the world know and love today. He would later divorce his wife and marry Claudia in 1949.
Going off topic a bit: I could probably write a lot more about Harland Sanders here, as he was arguably one of the most interesting Americans to have ever lived. Through his franchise efforts, he'd eventually meet a young Dave Thomas who he came to know well… which of course, led to the founding of the Wendy's franchise.
Also worth mentioning here: I've also been to the first franchised KFC, which ironically is located in Salt Lake City, Utah. It's just a restaurant with a sculpture out front, but it's worth a visit if you're in the area. While that's the first "KFC franchise," it all really started at this location in North Corbin, KY–this is where Colonel Sanders really found his passion.
7. The French Quarter during Carnival, New Orleans, LA
In general, New Orleans is one hell of a place to visit to eat. (That is, unless you've got a hankering for cheese.) I've often said that NOLA is the second best city in the United States for food–surpassed only by the San Francisco Bay Area. From poboy sandwiches to beignets (The famous Café Du Monde, pictured above) to seafood, you really can't go wrong here with food.
Specifically, though, I recommend one visit the French Quarter during Carnival. And let me say–Carnival is NOT Mardi Gras, and Mardi Gras is NOT carnival–rather it is the end of Carnival.
First, a brief lesson on religion for those who don't know what Carnival is. New Orleans is a very Catholic city. One of the most important "seasons" in the Catholic church is "Lent," which refers to the period of time before Easter. During lent, Catholics refrain from eating meat, as a sacrifice and a reminder to keep our faith in Jesus at the forefront of our mind. (Thus, "don't eat meat on Fridays" as observed by the modern Catholic church.)
"Carnival" refers to the period of time before Lent, starting with Epiphany (January 6th). The word "Carnival" comes from the Latin phrase carne vale, which translates to "goodbye to meat," because in Lent, Catholics refrain from eating meat. Carnival ends at the beginning of Lent (Ash Wednesday) with the celebration of "Mardi Gras," or translated from French as "Fat Tuesday." This is one last day of eating like crazy before the sacrifices we make for Lent begin.
So why go during Carnival? Because King Cake–that's why. During Carnival, bakeries in New Orleans produce King Cake, which is kind of like a half cake, half cinnamon roll dish. It's delicious, and quintessential for the Crescent City at this time of year. Of course, all of the other great foods are still available, but King Cake is really special to this time of year only. Also, the weather is cooler and not humid / muggy, as it is in the summer months.
One last thing: You probably don't want to go to Mardi Gras in New Orleans unless you have some sort of an awesome invitation from a krewe or you really know what you're doing and are willing to deal with crazy crowds.
6. The Buena Vista, Fisherman's Wharf, San Francisco, CA
The Buena Vista Cafe in San Francisco's Fisherman's Wharf is renowned for its iconic Irish Coffee–and that's not by accident. The Buena Vista Cafe gained global recognition in 1952 when owner Jack Koeppler and travel writer Stanton Delaplane perfected the recipe for Irish Coffee—a blend of dark coffee, Irish whiskey, brown sugar, and whipped cream. The cafe became the American birthplace of this famous drink, styled after one at the Shannon Airport in Ireland.
With a cozy interior, the Buena Vista Cafe offers a nostalgic atmosphere. The bartenders wear white coats that almost resemble those in a chemistry lab. Watching them prepare a line of Irish Coffees is a hypnotic experience. To help soak up the whiskey, i recommend their brunch options ranging from classic American breakfasts to savory Irish-inspired dishes. But don't forget the Irish Coffee.
The Buena Vista Cafe's rich history, nostalgic ambiance, and status as the birthplace of Irish Coffee in America make it an iconic establishment.
5. Maker's Mark Distillery, Loretto, KY
Maker's Mark is the best stop on the Bourbon Trail, but arguably the most challenging one to get to. It's totally worth the detour. I've written about the Maker's Mark Distillery Tour at the top of my Bourbon Trail List, but I'll discuss it here as well.
Located in the picturesque rolling hills of Loretto, Kentucky, the Maker's Mark Distillery offers visitors a unique opportunity to delve into the world of bourbon and experience the artistry behind this iconic brand.
The journey to Maker's Mark Distillery is as much about the destination as it is about the scenic route. Nestled in the heart of the Kentucky Bourbon Trail, this charming distillery is easily accessible from Louisville, Lexington, and other major cities. The drive through the lush, bourbon-soaked countryside sets the perfect tone for your adventure.
Upon arrival, you'll pass the black rickkhouses scattered throughout town as you find your way to Star Hill Farm, home of the distillery. As you pull into the distillery (which is a Kentucky state historic site), the first thing that strikes you is the sheer beauty of the location. The historic buildings exude a sense of timeless craftsmanship and tradition. Maker's Mark takes its commitment to tradition seriously, and this is evident in every aspect of the tour.
A visit to Maker's Mark provides an immersive experience. The informative tours take you through the entire bourbon-making process, from the locally-sourced grains to the aging barrels. You'll witness the hand-dipping of each bottle in Maker's Mark's signature red wax, a ritual that has remained unchanged since the brand's inception. The tour guides are passionate about their craft, and their enthusiasm is contagious.
Here are some tips for making the most of your visit:
Book in Advance: Maker's Mark is a popular destination, so it's advisable to book your tour in advance. This ensures you secure your spot and can choose from a variety of tour options.
Time Your Visit: The distillery is beautiful year-round, but the fall foliage adds an extra layer of charm. If possible, plan your visit during the autumn months–or arguably better still, plan your visit in late November / early December (before Christmas) so you can enjoy their Christmas decorations.
Tasting Experience: Don't miss the tasting at the end of the tour. Sample different expressions of Maker's Mark and discover the unique flavor profiles.
Shop at the Distillery: The gift shop is a treasure trove of Maker's Mark memorabilia. Of course, you can purchase a bottle and dip it in the iconic red wax yourself.
Responsible Enjoyment: Remember, bourbon tasting is an enjoyable experience, but don't get drunk and drive… it's a bad idea to drive through the rolling hills of Kentucky all liquored up.
Visiting Maker's Mark Distillery in Kentucky is a pilgrimage for bourbon enthusiasts and a delightful experience for anyone interested in the art of whiskey-making. The rich history, scenic beauty, and the commitment to handcrafting a truly exceptional bourbon make it a must-visit destination for travelers exploring the Kentucky Bourbon Trail.
4. Blue Bell Creameries, Brenham, TX
Located in the heart of Brenham, Texas, Blue Bell Creameries is a beloved institution for any Texan. After all, it is the "best ice cream in the country!" They have been delighting ice cream enthusiasts for over a century. A visit to this iconic creamery promises a delicious journey through the world of frozen treats.
Getting to Blue Bell Creameries is generally pretty easy, with Brenham situated conveniently between Houston and Austin. The drive to this charming town is a picturesque one, passing through the Texan countryside with its rolling hills and bluebonnet fields.
The creamery itself is a treat for the eyes. The vintage signage, the welcoming atmosphere, and the aroma of freshly churned ice cream make for an inviting introduction. Blue Bell Creameries takes great pride in its commitment to quality and tradition, and this is evident throughout the experience. A trip to Brenham is a journey that's sure to make you appreciate your favorite ice cream even more.
Here are some quick tips for making the most of your visit:
Check the hours, and don't go during the weekend: The plant isn't open during the weekends. Try to go when the observation deck is open. I don't think they offer tours any longer since COVID.
Ice Cream Parlor: The ice cream parlor on-site is a paradise for anyone with a sweet tooth. After your tour, indulge in a scoop or two of Blue Bell's delectable flavors. Some "exclusive" flavors are available here that aren't available anywhere else. And, it's super inexpensive. Don't pass on this!
Learn the History: Take some time to explore the Visitor Center, where you can learn about the rich history of Blue Bell Creameries and the company's dedication to producing top-quality ice cream. There are a few cool artifacts on display, and there are some photo opps available as well.
Souvenirs: They have a GREAT souvenir shop. Don't miss it.
A visit to Blue Bell Creameries is a sweet experience that's perfect for families, ice cream enthusiasts, or anyone looking to satisfy their cravings for the finest frozen treats. The combination of Texan hospitality, a rich history, and, of course, the creamy, flavorful ice cream, makes it a must-visit destination if you are traveling anywhere near Brenham on a weekday.
3. McIlhenny Company (i.e. – Tabasco Factory), Avery Island, LA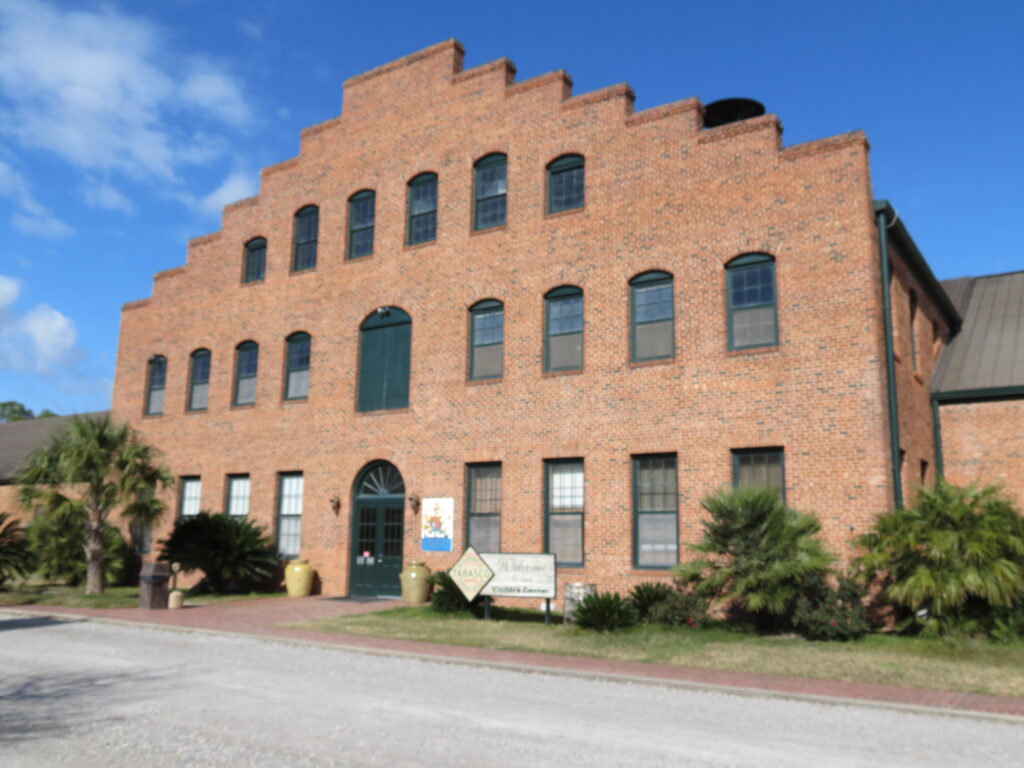 Nestled in the heart of Louisiana's Avery Island, the Tabasco Factory is a place where fiery flavors come to life. A visit to this iconic hot sauce producer offers a spicy journey through the history and production of the world-famous Tabasco sauce.
Getting to Avery Island is a memorable road trip adventure, with lush bayous, moss-draped oaks, and Cajun culture waiting to be discovered along the way. The Tabasco Factory itself is a slice of culinary history. The intoxicating scent of peppers greet you as you arrive. The McIlhenny family, guardians of the Tabasco legacy, have been producing their signature hot sauce on Avery Island for over a century, and their commitment to quality is unmistakable.
A walk through the the Tabasco Factory takes you on a spicy journey through the pepper fields, the salt mines, and the production facilities. You'll witness the meticulous process that goes into creating the world's most famous hot sauce, from hand-picking the peppers to aging the sauce in oak barrels. (One of the most interesting parts of production is that Tabasco is produced for different areas around the world on different days, due to the languages required on their labels. You'll never know where the Tabasco being produced is destined to go until you arrive!
Here are some tips for an unforgettable visit:
Make a Reservation: When I went many years ago, the experience was a simple walk-through experience along the side of the factory. I think it still mostly is, but they now call it the "Avery Island Experience" and recommend that you schedule reservations in advance. That can be done on their website, here. Other experiences are now offered as well.
Pepper Sauce Varieties: If you think you know all of the flavors the Tabasco factory makes, you probably don't. Don't miss the opportunity to sample various Tabasco sauces, including some exclusive flavors that you won't find in stores.
Consider the Weather: Louisiana's climate can be hot and humid, so be prepared with comfortable clothing and hydration. I like visiting southern Louisiana right after the first of the year. The weather is mild, enjoyable, and when paired with a trip to New Orleans, you can enjoy the parades, food, and culture around Carnival while you're visiting. (I discussed this above, as well.) Plus, the hotel rooms are cheaper, flights are more available, and it's just a better experience!
A visit to the Tabasco Factory on Avery Island is a spicy adventure that's perfect for food enthusiasts, history buffs, and anyone looking to explore the magic behind one of the world's most iconic condiments. If you're in New Orleans, it is worth making the 2 hour, 15 minute car trip out to Avery Island at least once.
2. World of Coca-Cola, Atlanta, GA
Located in the heart of Atlanta, Georgia, the World of Coca-Cola is a captivating attraction that takes visitors on a journey through the history, culture, and taste of the world's most iconic beverage. A visit to this engaging museum offers a thrilling exploration of the Coca-Cola brand.
Getting to the World of Coca-Cola is easy, as it's conveniently located in downtown Atlanta. Whether you're visiting Atlanta for the first time or you're a local, this attraction is a must-see for all ages. There are plenty of other nearby attractions that are worth seeing while you're there, including Centennial Olympic Park and the Georgia Aquarium.
The World of Coca-Cola is an immersive experience from the moment you step inside. The entrance features a 17-foot-tall Coca-Cola bottle sculpture, setting the tone for the adventure ahead. The museum showcases the rich history of Coca-Cola, the global influence of the brand, and its evolution over time.
During the tour of the facility, you will see the vault containing the secret recipe for coke. However–after going on the tour, I can tell you the undisputed secret ingredient that makes Coca-Cola that international success that it is today, and that ingredient is marketing.
Of course, they have an amazing gift shop, and all tour attendees are given a free bottle of coke at the end of the tour. This may be the best marketing experience offered in the United States, rivaled only by…
1. Hershey, PA
Hershey's Chocolate World is a delightful destination that promises visitors an immersive and indulgent experience in the world of chocolate. A visit to this iconic chocolate attraction is a heavenly journey that appeals to the sweet tooth in all of us.
Hershey is conveniently located in the picturesque Pennsylvania Dutch Country. This is due to the availability and quality of fresh milk, as you'll learn on the tour, which is a function of the abundant grass of the area. Hershey is a short drive from major cities like Philadelphia and New York, making it a perfect day trip or weekend getaway.
The moment you set foot in Hershey's Chocolate World, you're greeted by the inviting aroma of cocoa and the sight of giant chocolate bars. The immersive experience begins immediately, and the Hershey's brand's commitment to quality and delight is palpable throughout.
Hershey's Chocolate World is essentially what you'd expect if you asked the Disney imagineers to design an Epcot pavilion that discusses the process of making American milk chocolate. And like the best Epcot pavilions–there IS a ride.
The main attraction is the ride that takes guests through the process of making the chocolate–from grass to milk to factory. The ride is really the focal point of the location, though there are a couple of shows that are also offered to guests as well. For an additional fee, it is also possible to make your own Hershey chocolate bar where you pick the ingredients you want to use and even get to design the bar's wrapper.
Of course, the gift shop of Hershey's Chocolate World is fantastic, and one of the best. They have all kinds of Hershey branded items, clothing, and housewares, but of course they also have an incredible selection of candies as well. Some of the candies are extremely rare to try anywhere but at Hershey.
Additionally, nearby is Hersheypark and ZooAmerica. ZooAmerica is basically a smaller zoo, but Hersheypark is one of the great American amusement parks. Of course, the food at Hersheypark is loaded with Hershey's chocolate (and other Hershey candies, as well). The entire city is a real tourist "mecca."
Note that there is another Hershey's Chocolate World location in Las Vegas at the New York New York Casino as well (and I think there's also one in Niagara Falls, New York), but these are essentially impressive stores, similar to the one in Hershey. None of them match the experience of the Hershey-based, original Hershey's Chocolate World. Not many places are as "sweet" to visit as Hershey, and it's definitely an appropriate "dessert" for this list, so that's why it gets my #1 spot.
Honorable Mentions:
Of course, I couldn't cut this list down to 10 entries. There's too many good options out there.
The Anchor Bar, Buffalo, NY – Home of the Buffalo Wing. I don't include it on this list, though, as Duff's is actually much better. If Duff's had invented the Buffalo Wing, they'd be on this list.
The first franchised McDonald's in Des Plaines, IL – This location would have been about #6 on the list above, but instead, isn't included due to the fact that McDonald's bulldozed it. SHAME ON YOU, MCDONALD'S! 😡
Portillo's in Chicago, IL – Portillo's is really the quintessential Chicago Hot Dog–and I'm speaking from vast experience–but there's no one location that is kind of the "original" that is super special. The Hot Dogs and the Italian Beef Sandwiches are amazing, though, and stand on their own–no matter where they are served.
Tony Packo's in Toledo, OH – Made famous by M*A*S*H, Tony Packo's is delicious and bucket-list worthy, but isn't quite as widely recognized as the others on the list above.
Dublin Bottling Works, Dublin, TX – Home of the "Dublin Dr. Pepper," they were the hold-out bottlers of Dr. Pepper made with real cane sugar. Dr. Pepper-Snapple shut them out of bottling Dr. Pepper (they believed this eroded their brand), but the bottling works is still there, bottling other old timey soft drinks.
The Big Texan Steak Ranch, Amarillo, TX – Oft parodied and duplicated, but never replicated, this food landmark is legendary in it's own right. Here, you can get the free legendary 72 ounce steak (provided that it, and all of the fixin's, are consumed in one hour or less.) Only problem is, the food isn't that great. There's much better steaks to be had in Amarillo. It's definitely worth checking out, though. I write more about Amarillo in my Top 10 Texas Destinations post. This one almost made the above list, and would be #11 if there was one.
The Palmer House, Chicago, IL – They invented the chocolate brownie here. However, not included as the Palmer House is vastly historical and this is just one, little-known fact about the Palmer House.
Knott's Berry Farm, Buena Park, CA – Home of the boysenberry, but really more of an amusement park now. Also, the chicken dinner house is legendary.
The State Fair of Texas – It is said that the corn dog started at the State Fair of Texas (a claim made by Fletcher's Corny Dogs, though that claim is disputed). It is undisputed, though, that every year new fried concoctions that are more and more absurd are dreamed up and executed annually.
Chick-Fil-A Hapeville Dwarf House – Chick-Fil-A began their chain at this location, which still features a diner-style counter and has items on the menu that aren't at any other Chick-Fil-A. It was here that they developed their pressure-cooked Chick-Fil-A sandwich.
McGinn's Pistachioland – Located out in the middle of the New Mexico dessert (in Alamogordo, not far from White Sands National Park) is an impressively large pistachio farm. Tours are offered where you learn a lot about the pistachio. A gigantic gift shop (and the world's largest pistachio) are almost equally as interesting of a tourist attraction as the tour itself.
I know there's a few that aren't listed here–like the Dole Plantation, the Jelly Belly Factory, and the Pez factory–but I can't list them yet, because I haven't been to them.
What other ones am I missing? Let me know in the comments below!