Like cruise ships, not all cruise ports are created equal. In this entry, I'll list all of the Caribbean ports I've been to, rated from "worst to first," and I'll include some thoughts on each of the ports of call.
I almost included a "safety" section for each port, but generally speaking, all ports are pretty safe–or the cruise lines wouldn't stop there. But–follow common sense and don't do anything stupid. Of course, that goes for anywhere. (If it doesn't feel safe or right, it probably isn't.)
If you haven't been to these places, here's a map of where they all are:
Here's the ranked list of ports. You can click on the port name below to go right to the port to learn more about it.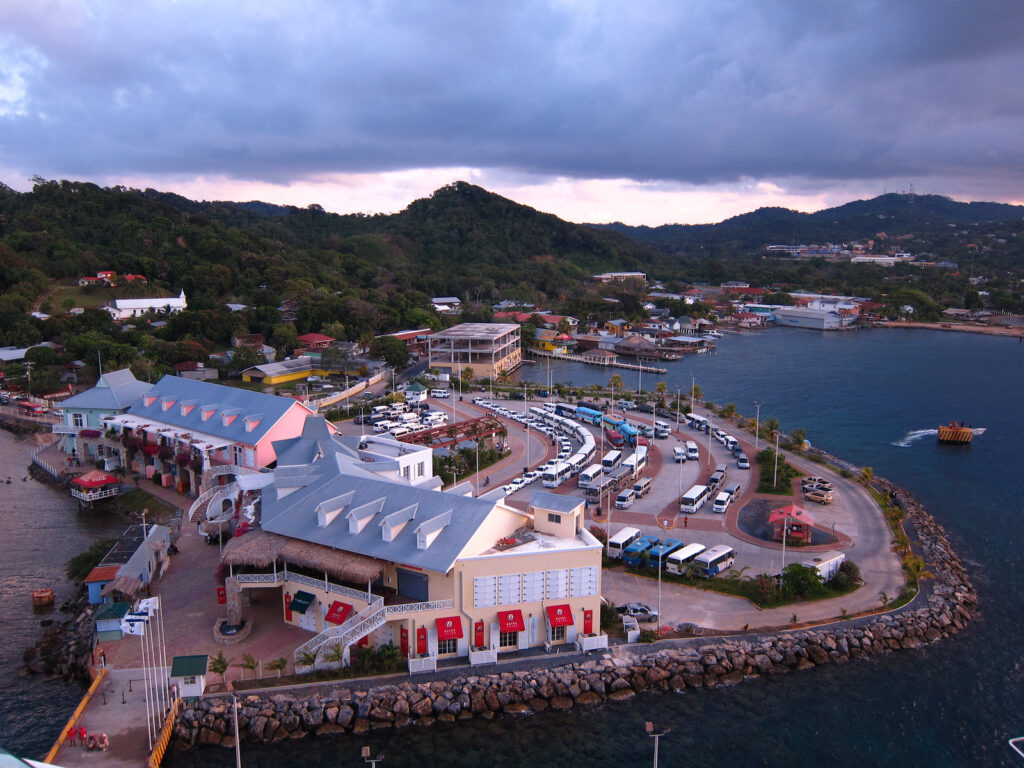 21 – Roatán, Honduras
Photography: Out of the water, you'll have minimal opportunities to get photos. If you are snorkeling or diving, it'll probably be one of the best places to go (or so I am told by divers.)
Shopping: Minimal–I only remember some shops at the cruise terminal.
Local Culture: As soon as we left the cruise terminal, we were plunged into poverty. I wouldn't feel comfortable leaving the pier without an organized tour.
Food: I don't remember having any notable food here.
Beaches: These were okay, but not super notable.
Overall: I'd give it a 2/5. This is my least favorite port in the Caribbean.
Notes / Recommendations: Note that I went to this port back in early 2012, and I have heard they've done a lot with it. My information may be outdated. Regardless, I'd probably stick with snorkeling or diving (if you are a diver.) Otherwise, stay on the port.
20 – La Romana, Dominican Republic
Photography: There aren't opportunities for taking unique photos if you remain at the port. Going on an excursion will provide some more, but not many.
Shopping: I encountered almost no shopping opportunities. (Certainly nothing to speak of was encountered.)
Local Culture: The excursion that we took brought us over an hour away from the port. The bus ride was long and (honestly) pretty boring. We saw lots of poverty as we drove.
Food: Nothing notable was had. (Further note: Fairly recently, the Dominican Republic was under high alert for dangerous, fake booze in hotel rooms. Be careful.)
Beaches: I didn't go to one, so I don't have a good opinion here.
Overall: 2/5. I'd avoid itineraries that stop here.
Notes / Recommendations: We took a bus from the port almost clear across the island into a heavily wooded area to feed and hang out with Spider Monkeys at "Monkeyland." It was okay–but not very unique. (I did get good pictures, though, as you can see above!) If you don't do an excursion here, stay on the boat.
CAUTION: I've had a friend that went ziplining here with an official excursion who sustained life threatening injuries from her experience (through no fault of her own). Luckily, she's okay now.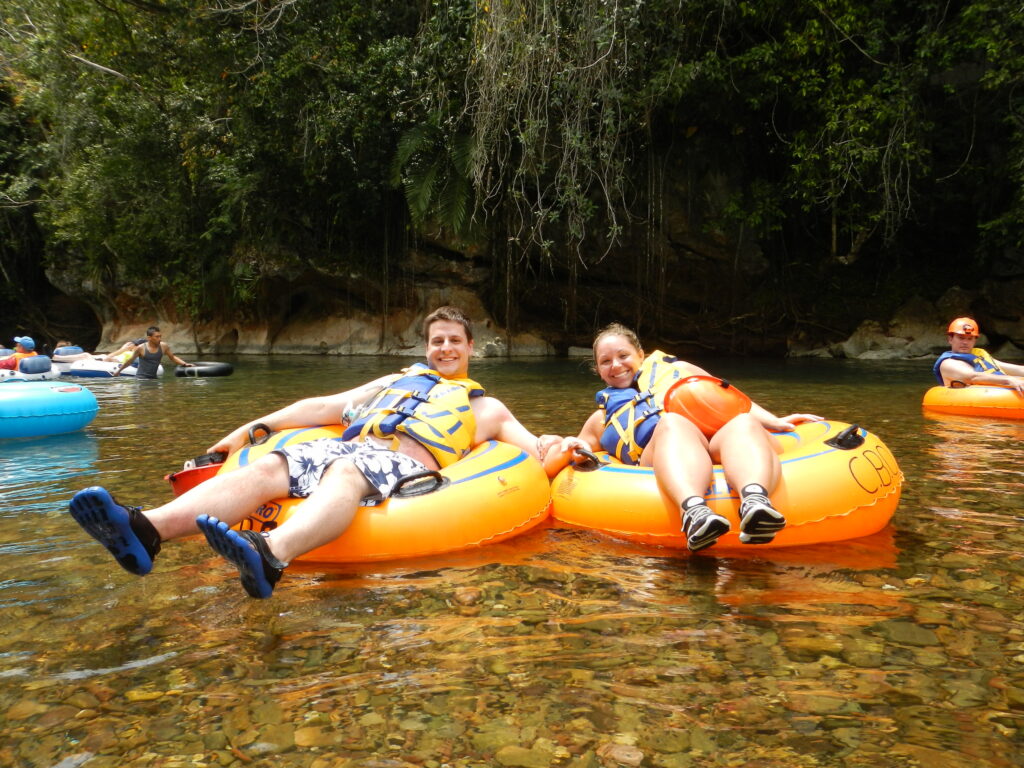 19 – Belize City, Belize
Photography: Not many opportunities will present themselves, unless you have a waterproof camera that does well in the dark.
Shopping: There's a bit of notable shopping on the port. There's a couple of notable, unique things here–cashew wine, and hot sauce. (I specifically recommend "Belizean Heat" made by Marie Sharp's, which is local to Belize.)
Local Culture: Cave tubing is THE thing to do here. It's a long bus ride to the cave tubing, though. As you drive, look around Belize City. Specifically, note the graveyards. They're quite unique.
Food: I don't remember having anything in particular. (I went in 2012.) But as I mentioned before, don't pass up the hot sauce. It's very good.
Beaches: I didn't go, so I can't say.
Overall: 3/5
18 – Freeport, Bahamas
Photography: Some opportunities will present themselves, but they are very limited. Bring your underwater cameras.
Shopping: This is very limited. A straw market is on the port (which isn't that great.)
Local Culture: The people are very nice, but Freeport is more of an industrial location.
Food: The conch fritters and Goombay punch are delicious here… especially together. They, alone, may make getting off of the boat worth it.
Beaches: Okay. Snorkeling was good, but not incredible.
Overall: 3/5.
Notes / Recommendations: We booked a snorkel / island tour from our cruise line excursion program and we had an excellent tour guide. This really made our experience in Freeport very good (and honestly, quite a surprise to us!) If you aren't planning on doing some kind of excursion here, stay on the pier–or possibly the boat. But if you get off the boat, be sure to try the conch fritters with a can or bottle of Goombay punch.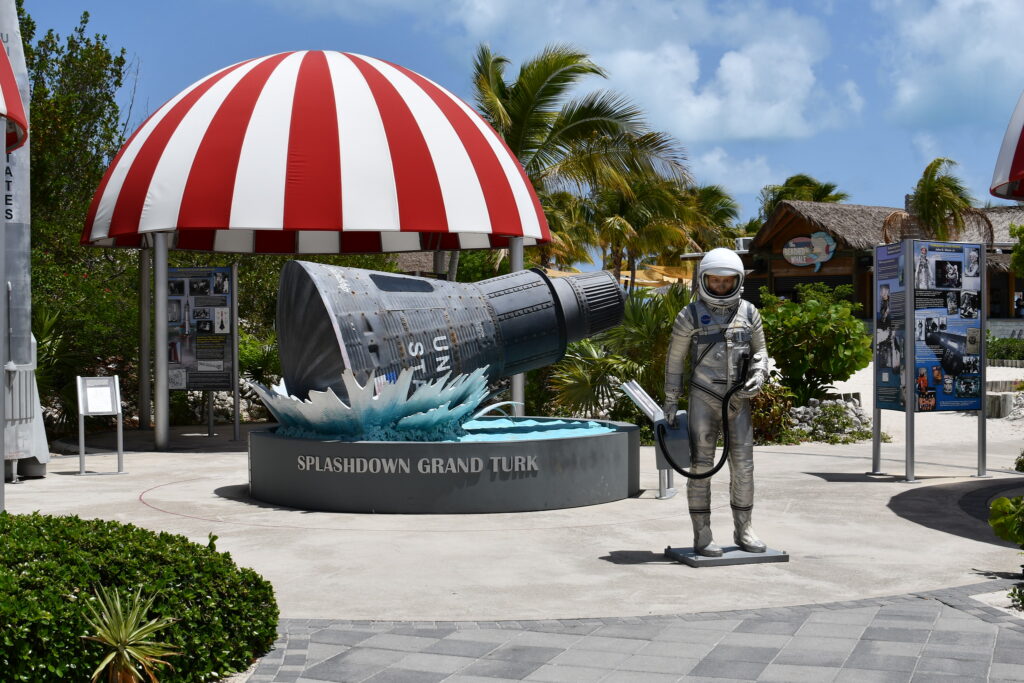 17 – Grand Turk, Turks and Caicos Islands
Photography: There's a small, outdoor museum exhibit (pictured above) which is a neat photo opportunity for space and aviation nerds like myself. Otherwise… it's just a beach with a shopping center. (You can swim very close to whichever cruise ship is parked in port. This can make for a pretty cool photo opportunity, with the right equipment.
Shopping: There's not anything unique here, but there's a few stores.
Local Culture: Minimal. (Note: this review only considers the "Grand Turk Cruise Center," so there's not much culture. It's a beach and a little shopping area.)
Food: Nothing to speak of. They have some chain-type food and drink in the cruise center.
Beaches: Not bad, but a little rocky. (If you claim one of the green-umbrella chairs, you won't need to pay to rent the space. But–good luck doing this, especially if another cruise ship beat you into port and/or you aren't one of the first off the ship.
Overall: 3/5
Notes / Recommendations: You really shouldn't waste money on an excursion here. The beach and shopping areas are nice enough by themselves.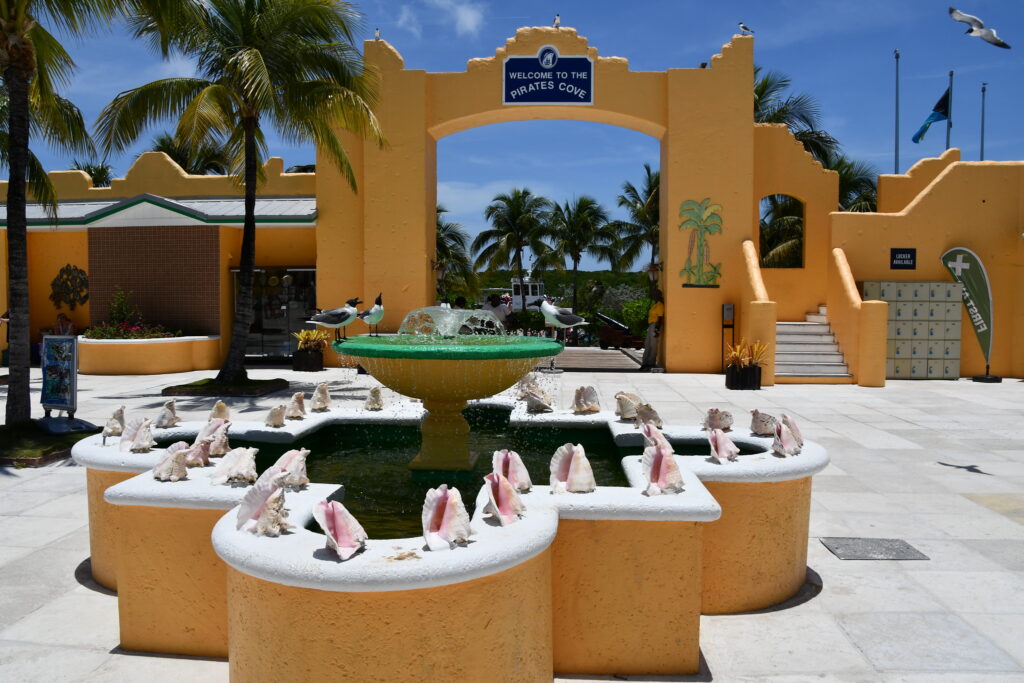 16 – Half Moon Cay, Bahamas
Photography: Really, it's a beach. There's nothing else. It's pretty, though–just not unique. The most famous sign is the "I wish I could stay here forever" bar, which is a common selfie location. But, it's a sign.
Shopping: Pretty much non-existent. There are a couple of vendors on the island–but there's not much.
Local Culture: It's a private island, owned by Carnival. There's some attempts at marketing that it is part of the Bahamas, and it is, but there's no notable culture here.
Food: You really have only one (free) option–there's a buffet on the island with some somewhat limited options. Protip: GO AS SOON AS THEY OPEN. (11 AM, I think? Check with the cruise line upon your arrival.) If you don't, they will run out of food. You may take the food back to your beach chair, no matter how far away it is.
Beaches: This is the real reason to come here–it is one of the best beaches that I've ever been on. They also have a neat little splash pad for kids on the far side of the beach. And–because it is owned by Carnival–if you want to get a "Miami Vice" swirl drink on the beach, you totally can. (I'm not sure if other Carnival-owned lines offer the same drinks, but you get the picture.)
Overall: 3/5.
Notes / Recommendations: This is worth the tender for the beach. Unless you really want a private cabana or kayak or watercraft, you'd probably be better off skipping the excursion.
15 – Bridgetown, Barbados
Photography: Harrison's Cave presents some really cool photography opportunities. But–be prepared for dark photography.
Shopping: There's a Diamonds International on the port, but honestly, shopping is a tad limited. Note that I had pretty awesome luck at the Diamonds International.
Local Culture: Okay. Downtown looks like it's got some more sketchy areas, but we felt safe taking a taxi to the beach.
Food: Nothing that I encountered was worth noting here.
Beaches: Pretty nice, though the one that we went to was super crowded.
Overall: 3.5/5
Notes / Recommendations: For aviation geeks like me, they have one of the British Airways Concordes–but sadly, the museum has been closed since mid-2018.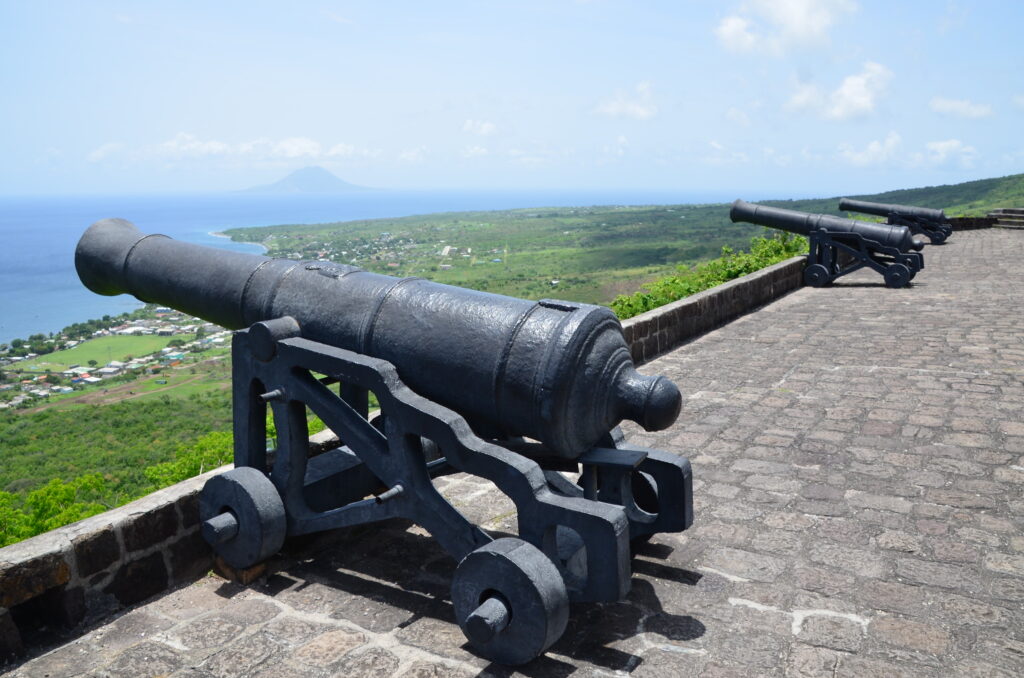 14 – Basseterre, St. Kitts & Nevis
Photography: There's not too many options, but if you go on a tour, you can see the Brimstone Hill Fortress, which has some breathtaking views. Also, I find the old, historic forts usually have some unique photography opportunities (see above). You can also go to…
Shopping: …the Wingfield Estate / Romney Manor, where you can purchase some cool batik fabric products. (There's also some good photography at this location.) There's also a fair amount of shopping on the cruise port, though nothing is super unique there.
Local Culture: The people are very nice and hospitable, and you'll see some cool local culture, especially at the Wingfield Estate and Brimstone Hill.
Food: I didn't have anything super notable. The conch fritters and Johnny Cakes are supposed to be good, but I didn't have any.
Beaches: They're pretty good, but can be a bit rocky. They tend to be fairly small, though. The beach that we went to had very dark sand (probably due to the volcanic island.)
Overall: 3.5 / 5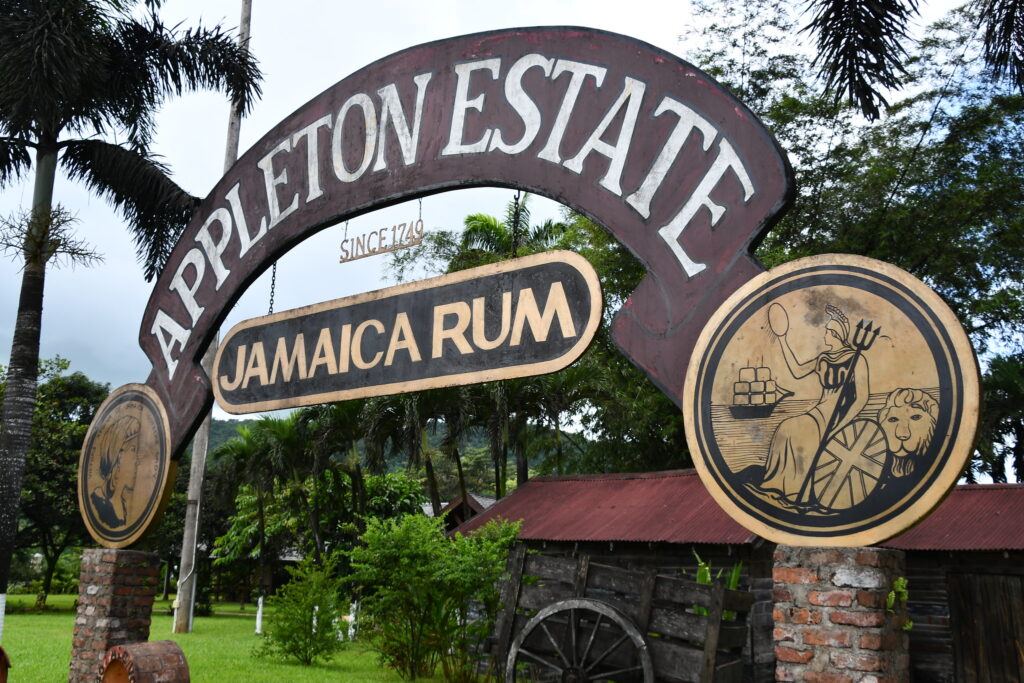 13 – Montego Bay, Jamaica
Photography: Honestly, not so great, but this is largely dependent on where you go. If you're staying along the coast and going to Dunn's River Falls, you won't see much. If you're going on an excursion that takes you through the country, there's a good chance you'll see some really cool rolling mountains, hills, and forest. I highly recommend the Appleton Estate excursion… but the trip to and from Appleton is brutal.
Shopping: Not notable–aside from some Appleton stuff.
Local Culture: EVERY tour seems to start with the same content–the introduction of the terms "ja mon," "irie mon," and "no problem mon." Also they'll point out the KFC near the dock and come up with some clever interpretation of the initialism. ("keep the fat comin'" or similar.) They will get to more of the real Jamaica, if you're on a good tour. One of the most interesting parts of their culture is Jamaican Patois, in my opinion.
Food: Good! Jerked chicken, red stripe beer, and my favorite (of course): Appleton Estate rum.
Beaches: I can't speak to these… I didn't go.
Overall: 3.5 / 5. The excursion you pick will make or break your experience.
Notes / Recommendations: Skip Dunn's River Falls. I don't think it's as "real" as they make it out to be, and even if it was, it's nothing super worth writing home about. (Maybe do it if your cruise ship arrives at Ocho Rios, though. It's just not worth the long, boring drive across the island.) No matter where you go, you'll be glad you're not driving, though. The roads are windy, narrow, and can get real scary. Sit in the front of the bus.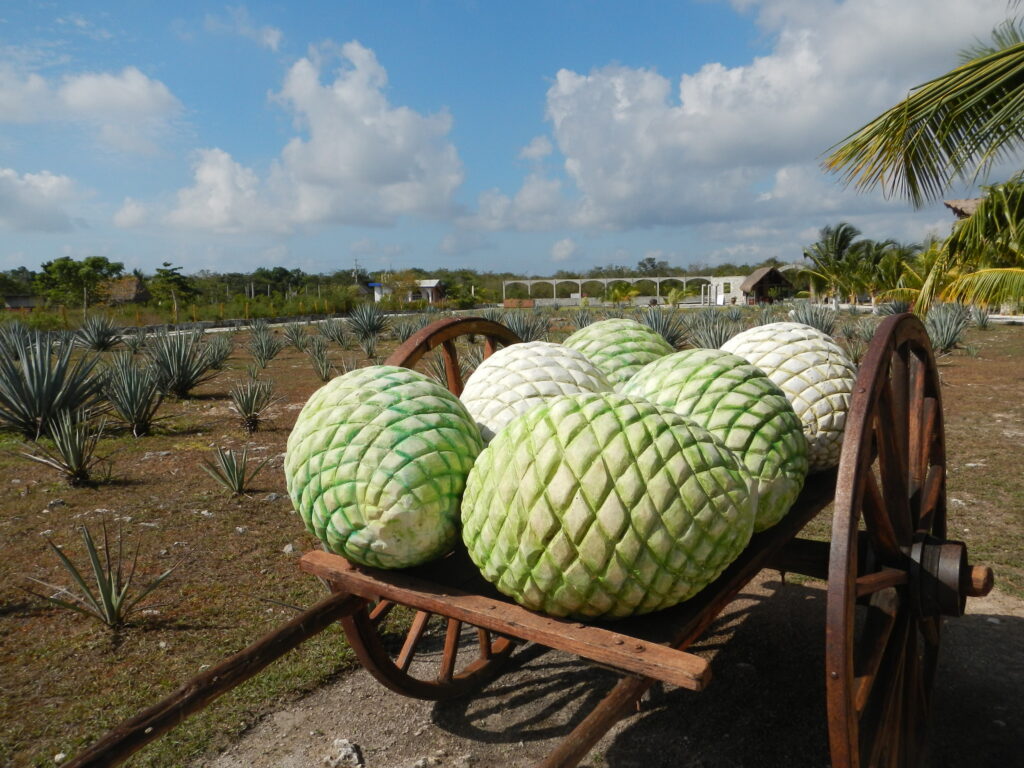 12 – Cozumel, Mexico
Photography: Not a bunch of opportunities exist on the island (you have to go on the main land for that… more on Playa del Carmen later), but there's some stuff to see. Cava Antigua is my favorite tour on the island. Mostly other than that, it's a beach.
Shopping: There's some cool shopping opportunities. Depending on where your boat goes, you'll get a different experience. More stores have been added near the Carnival port, and this offers the typical "cruise port shopping" experience. There's another cruise port (that other cruise lines goes to farther south on the island.
Local Culture: There's a lot of culture here–heck, it's Mexico! Many more opportunities exist on the main land, but there will be a few good opportunities on the island as well.
Food: Hey–it's Mexico. The food's great!
Beaches: Beautiful and nice.
Overall: 4/5
Notes / Recommendations: For a simpler, slower-paced day, stay on Cozumel. To maximize your opportunities, take an excursion that brings you to Playa (and beyond.)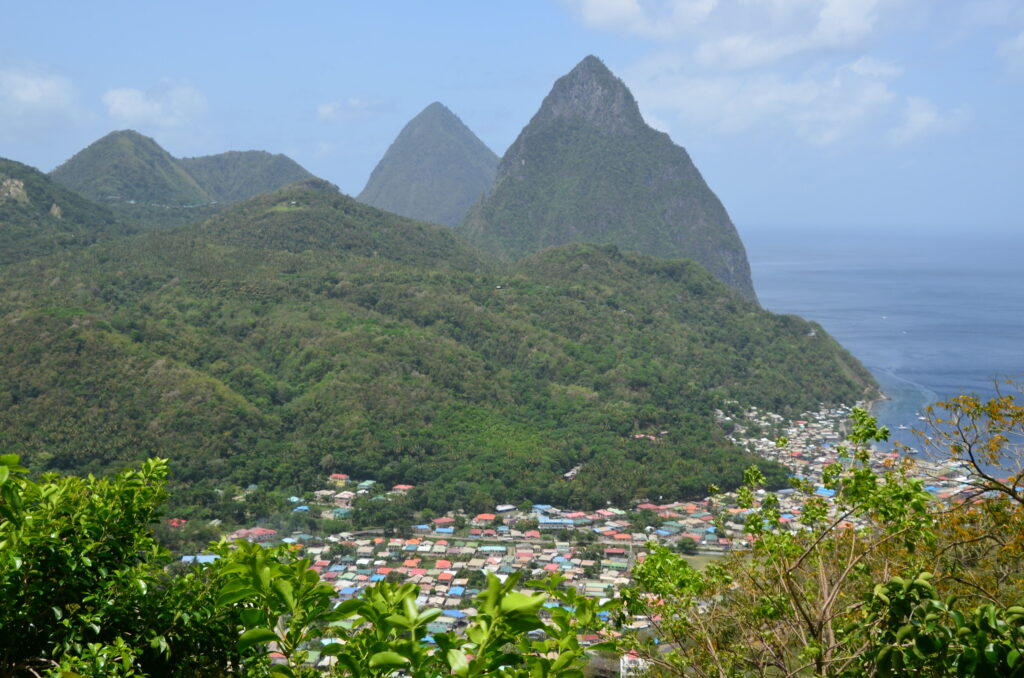 11 – Castries, St. Lucia
Photography: Fantastic natural beauty can be found on this volcanic island, as you can see above. Book an excursion, and bring a good camera.
Shopping: There's some local folks who have some little, handmade sculptures. You'll also encounter some straw markets, where you may stumble on some unique, handmade items. However, there's nothing quintessential or super notable that I'm aware of.
Local Culture: You can see a lot of poverty here–in some places, the people are a bit more aggressive than others.
Food: There's lots of bananas here. (It used to be the main source of income on the island. Now, it's tourism.) Try the banana ketchup–and if you like it, buy a bottle! It's good and very unique. If you get the chance, also try the banana BBQ sauce. The local food is pretty good, also, but not much different than other Caribbean islands.
Beaches: The black sand beaches are unique and are a must for those that collect sand from beaches around the world. Snorkeling was fun as well.
Overall: 4/5
Notes / Recommendations: Definitely book an excursion on this port.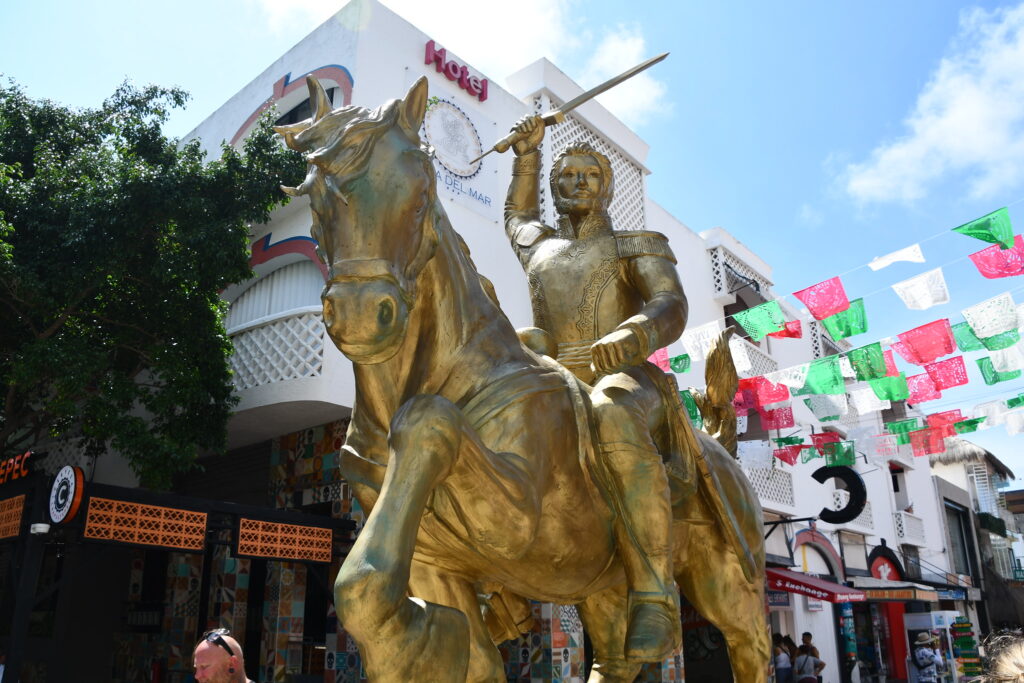 10 – Playa Del Carmen, Mexico
Photography: If you stay only within playa, there's some unique opportunities, but not many. However–if you book an excursion that goes to Tulum, Xcaret, Xel-Ha, or similar, you'll have some outstanding opportunities. Specifically, at Xel-Ha or Xcaret, make sure to bring an underwater camera (or a nice digital camera in an underwater enclosure–GoPro, a stills camera, or similar).
Shopping: This is a great shopping port. Of course, you have the opportunity to do the duty free shopping that you'd be able to do elsewhere, but there's many larger stores with stuff you won't find at a typical cruise port. There's also some really cool unique artsy items as well. Of course, they also have the pharmacies which sell drugs that are over the counter in Mexico which aren't in the US.
Local Culture: It's Mexico, so it's great! (But not the unsafe Mexico that you hear about in the sensationalist news–the drug cartels don't want to bother you here.) The people are super nice. It is certainly touristy, but it's distinctly unlike the US.
Food: Great, if you like Mexican food! Remember–this is Mexico, though. Just be careful when getting water (I wouldn't drink the tap water) as well as getting vegetables washed in unfiltered / unclean water and similar. If you aren't careful, you may feel the wrath of Montezuma's Revenge.
Beaches: Great. The water is beautiful, the sand isn't rocky, and it is picturesque. (You can see Cozumel from Playa del Carmen's beaches as well.)
Overall: 4/5
Notes / Recommendations: Again, depending on what you're going for, consider booking an excursion. (Xel-Ha and Xcaret are really impressive, in my opinion.) It is sometimes possible to book an excursion to Chichen-Itza, but note that it will probably be pretty expensive to do this, and you may feel pretty rushed. (Chichen-Itza is one of the most incredible places you'll ever visit, though, and will provide some great culture and photography opportunities.)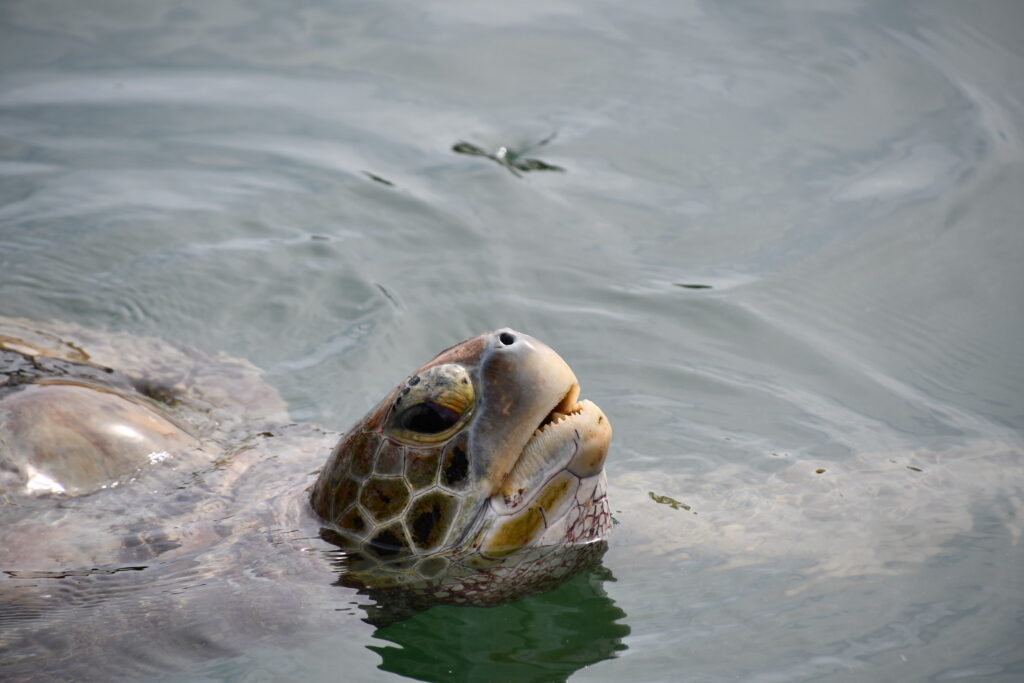 9 – George Town, Grand Cayman
Photography: Simply considered as a destination, it's a very pretty island, so you'd have some opportunities there. However–depending on your excursion, you'll have some unique locations to visit, see, and photograph (like the Tortuga rum cake factory and "Hell") and some even better wildlife to see (the sea turtles at the Cayman Turtle Center, the stingrays at Stingray City).
Shopping: Great. There are an abundance of stores within walking distance of the cruise port.
Local Culture: Poverty is not an issue here. You pretty much have to be wealthy to vacation here for an extended period of time (much less live here.) A notable share of the island is owned by Kenneth Dart, heir of the Dart Container Corporation. (Think: Styrofoam cups.) Since the 60's, this place has been a tax haven for the wealthy, and you can see it.
Food: I haven't eaten a lot here! I'd probably stick with seafood though.
Beaches: Beautiful and picturesque with perfect water and sand.
Overall: 4.5 / 5
Notes / Recommendations: You will need to tender to get on this island. Plan accordingly. The early bird gets the worm!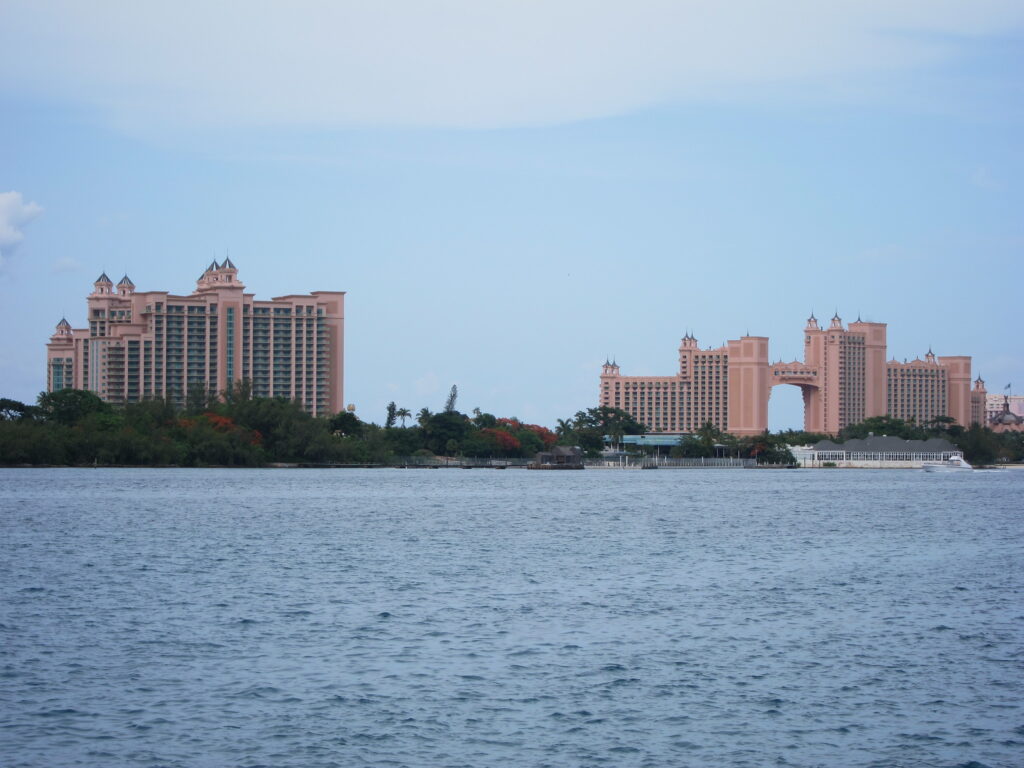 8 – Nassau, Bahamas
Photography: The Bahamas, in general, don't have a lot of photography opportunities, as they're mostly beach. Nassau has some notable exceptions. There's some cool vistas looking towards Paradise Island from the cruise terminal (see above), and there's some great opportunities for snapshots at Atlantis. Atlantis has a water park, if that's your thing (it is mine), an aquarium, a casino, and more. It is the closest thing you'll find to a Las Vegas strip casino in the Caribbean.
Shopping: There's a straw market and some jewelry stores downtown on Bay street. However, the nicest stores that I remember were next to Atlantis at Marina Village. There's some cool shopping in either location, though.
Local Culture: There's nothing super special here–it's kind of like the rest of the Bahamas.
Food: Again, I highly recommend the conch fritters with the Goombay Punch.
Beaches: Beautiful, just like the rest of the Bahamas.
Overall: 4.5 / 5
Notes / Recommendations: People hate on Nassau, for whatever reason. I think it's pretty solid–but just go to Atlantis. You'll be glad you did.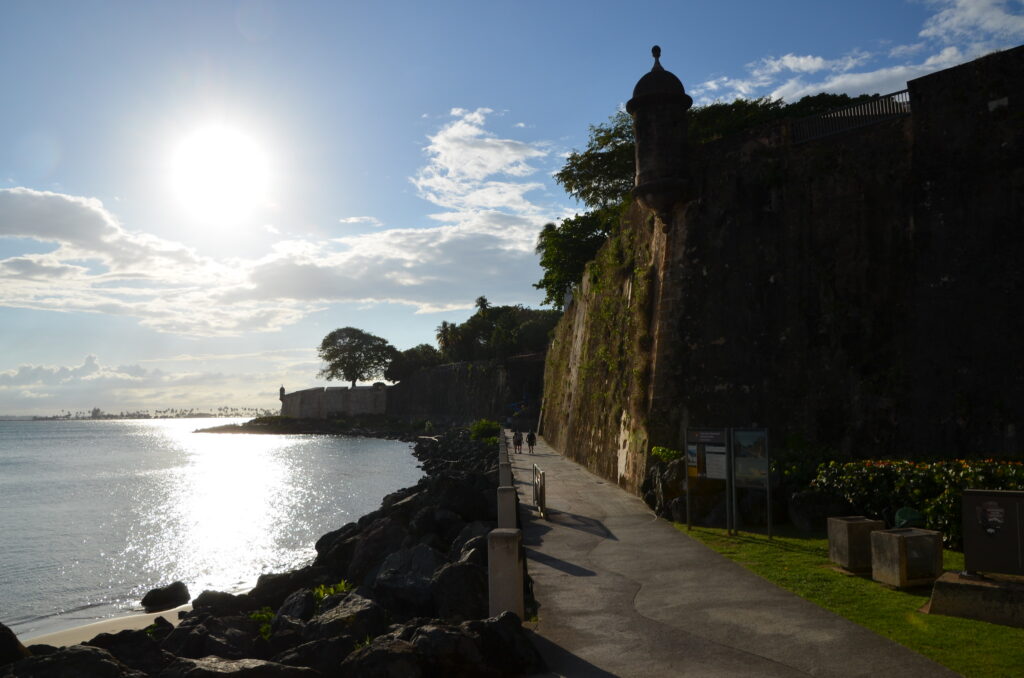 7 – San Juan, Puerto Rico
Photography: Viejo San Juan is brimming with great photography opportunities. It's a walled city, and walking around the fortified part of the city makes you feel like you are walking through "Pirates of the Caribbean" (as I think they took much of their inspiration from Viejo San Juan.) The old buildings, thin cobblestone streets, old churches, and monuments are really cool for photography purposes.
Shopping: There are many great little quaint stores that you'll see while walking around the area. You'll find everything from grocery stores and bakeries to cigar stores to art galleries.
Local Culture: Viejo San Juan is great here, as well. You'll hear live music, see lots of cats, see some very odd folks, and enjoy old architecture.
Food: Also quite good. Make sure to try the mofongo and the malloricas.
Beaches: Not bad, but not necessarily close. You may need a taxi to get to one. (When you leave Viejo San Juan, it's unsafe–you'll definitely want to use a car to get to one.)
Overall: 4.5 / 5
Notes / Recommendations: Stick with Viejo San Juan. Avoid driving around San Juan, as it's not fun.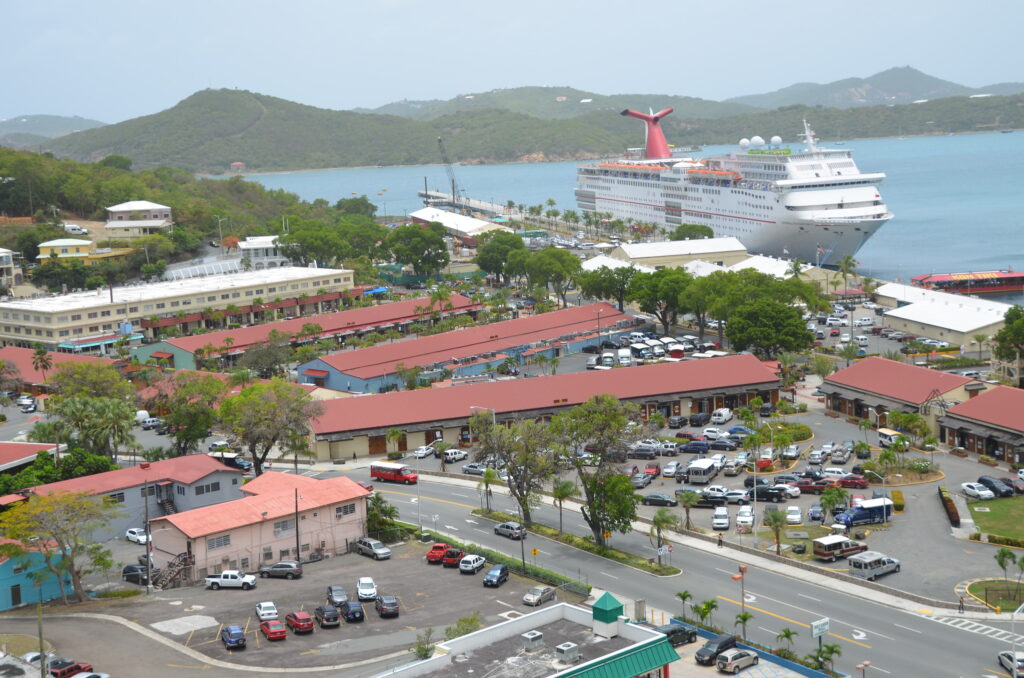 6 – Charlotte Amalie, St. Thomas, USVI
Photography: Stunning vistas, beautiful beaches, and some touristy-type places (like Paradise Point) provide some really cool photo opps.
Shopping: Overall, this is probably the best place for a US citizen to buy a watch in the world. There's a ton of selection, a ton of stores, and the per-person duty limit is twice the normal amount, as this is a US property. Of course, you'll still benefit from tax-free savings as well. Jewelry has many of the same benefits. But–Charlotte Amalie is known for this benefit.
Local Culture: Not super unique, but chill and welcoming, just like most of the rest of the Caribbean.
Food: Nothing super unique is here.
Beaches: Magen's bay beach is picture-perfect, and darn close to the best beach I've ever been on.
Overall: 4.5 / 5
Notes / Recommendations: This is high on my list because I love watches and Magen's Bay is fantastic.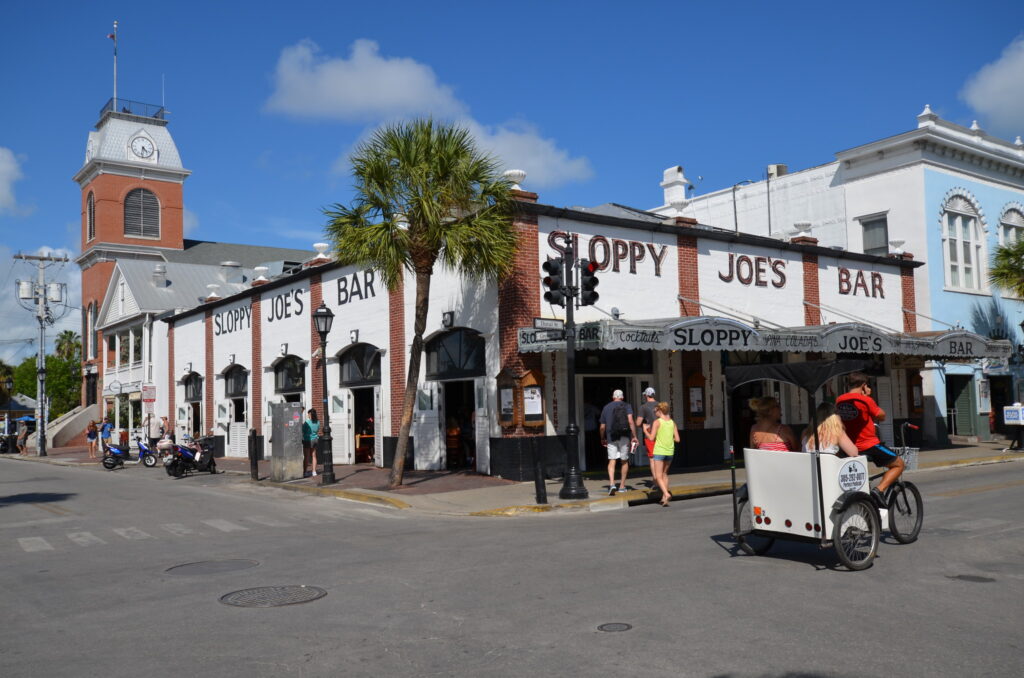 5 – Key West, Florida, USA
Photography: This place is so picturesque that the Walt Disney Company built one of their first vacation club resorts ("Old Key West") reminiscent of the atmosphere and architecture here. And that's just the beginning! There are so many great places to see on and around Key West, and they all offer some quintessential photography opportunities.
Shopping: Great. There's tons of stores (some more touristy and some more unique than others) of all different types–everything from a Tervis cup boutique to a store dedicated to hot sauces to a sandal factory.
Local Culture: Key West is a gem here. Everything about it is notable–from the key lime pie to the conch republic. My favorite cultural highlight here is the Ernest Hemingway house–complete with the polydactyl cats.
Food: KEY. LIME. PIE. And let me tell you–here, it's amazing.
Beaches: I didn't really get to go, but they looked great.
Overall: 4.75 / 5
Notes / Recommendations: We did a bike tour here–I'd definitely recommend that to someone that wants a good, quick overview of the island.
4 – Philipsburg, St. Maarten
Photography: There's lots of great photography opportunities around downtown St. Maarten. You can really capture the Dutch (and French) influence on this side of the island.
Shopping: The shopping in downtown St. Maarten is fantastic. Great stores of virtually every type exist, and there's an abundance of great shopping opportunities within walking distance from the ship's pier.
Local Culture: Distinctively dutch–and that's a darn good thing. The Dutch really know how to "do" an island. (3 of the top 5 ports on this list are Dutch.) Also, Maho Beach is a very famous beach, due to its proximity to the end of the runway at Princess Juliana International Airport, where large aircraft land very close to the beach. People enjoy trying to hang on at the fence (or whatever they can) to counter the jet blast of the landing planes. (Note–this isn't a good idea. If you need proof, here you go.)
Food: The quintessential item here are the Sint Maarten Guavaberry rums / hot sauces / BBQ sauces.
Beaches: Great. Again, Maho beach is famous for the specific photo opportunity, but the beaches I encountered were very nice. There's a good sized one adjacent to the cruise port.
Overall: 4.75 / 5
Notes / Recommendations: St. Maarten / St. Martin is a really unique island. Both sides of the island really preserve their respective country's culture while being in the Caribbean.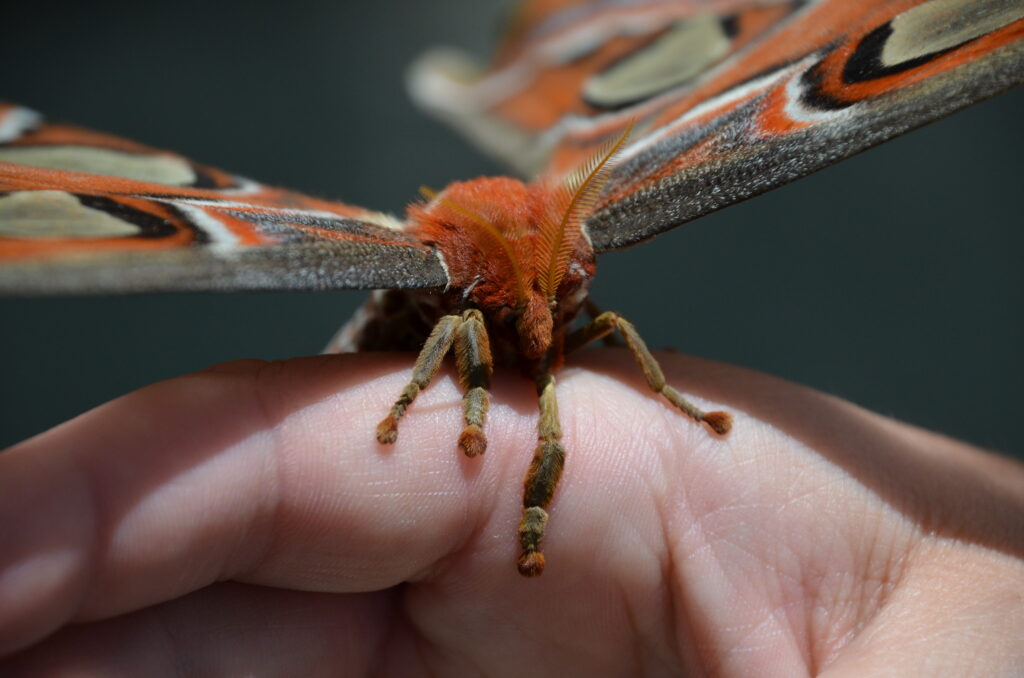 3 – Marigot, St. Martin
Photography: Outstanding–sadly, it used to be even better before Hurricane Irma hit the port in 2007, as the St. Martin Butterfly Farm posed some very unique opportunities (see above.) However, the quaint, quieter, and more relaxed Marigot is still very picturesque. The yachts on the bay, the fort on the hill, and the street scenes in general are all eye candy.
Shopping: There's some good options and a small shopping mall within walking distance of the water. The shopping here is more about the experience than the specific unique product.
Local Culture: The French influence is clear here. There are authentic French cafes which have beautiful ocean views.
Food: Good, but the more unique, quintessential items are on the Dutch side of the island.
Beaches: Beautiful and pretty ideal, just like St. Martin. The beaches on this side of the island will likely be less crowded than the ones closer to the St. Maarten Dutch port. (Note: There are nude beaches on this side of the island–specifically, Orient Bay Beach. I didn't encounter them, but I wouldn't recommend pursuing them, either.)
Overall: 4.75 / 5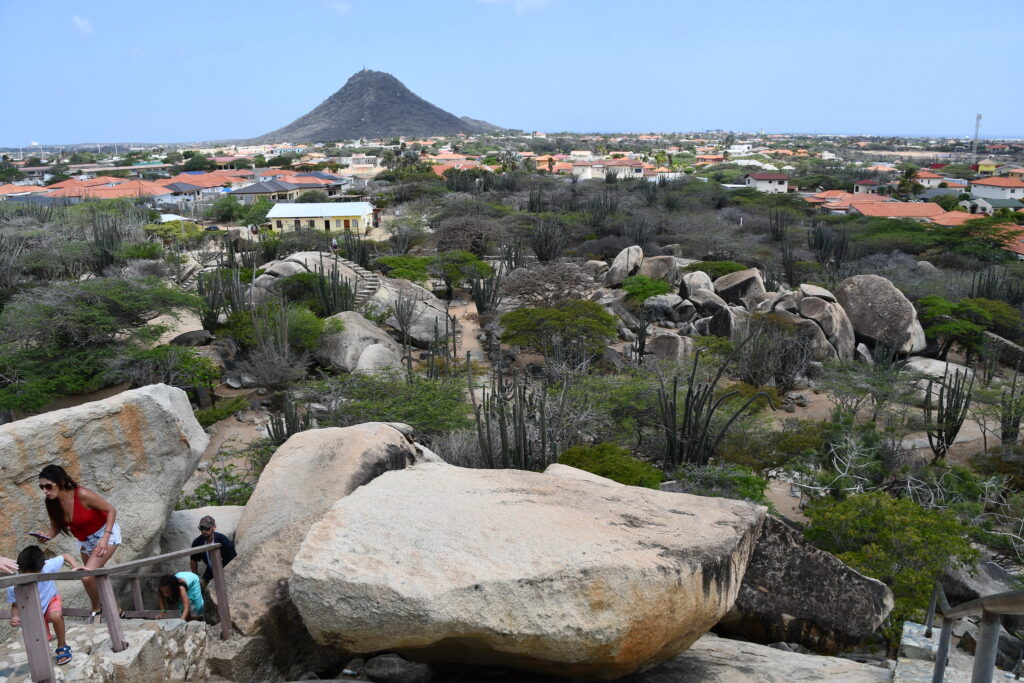 2 – Oranjestad, Aruba
Photography: Fantastic–and there's a lot of different things you'll see that's worthy of photography. From natural beauty (the Natural Land Bridge) to cultural landmarks (like the California Lighthouse) to Dutch street scenes, there's some really cool stuff to see and take pictures of.
Shopping: Many great stores are very close in proximity to the cruise terminal. For fellow watch nerds–I love this port for buying watches. The Diamonds International Watch & Design location near the port is impressive and has a big selection, but the Little Switzerland location a bit farther from the port is huge and great. The shopping mall that it is in is worth a visit for sure! For a less expensive (and more practical!) souvenir, check out Aruba Aloe. There's many stores scattered around the island with their products.
Local Culture: Interesting, and super varied.
Food: Sadly, I didn't get to sample a lot of food here. ?I can provide one suggestion–though. Try a stroopwafel. These are Dutch waffle / caramel cookie sandwiches. They're delicious. They make them fresh in some places around the island but can always be purchased in a grocery store. (Note: There's also a grocery store within walking distance of the cruise terminal.)
Beaches: Perfect. Eagle Beach in Aruba is the nicest, most beautiful beach that I've ever been on. There are no private beaches on the island of Aruba, so you can essentially go to any beach on the island without worrying about resorts / permission / etc. (Note: Aruba has some costal areas (like, around the natural land bridge) where the beaches are rocky and not sandy.)
Overall: 5 / 5
Notes / Recommendations: Aruba and Curaçao are really tied for "first" on this list. Aruba is smaller, flatter, and a bit more resort-y.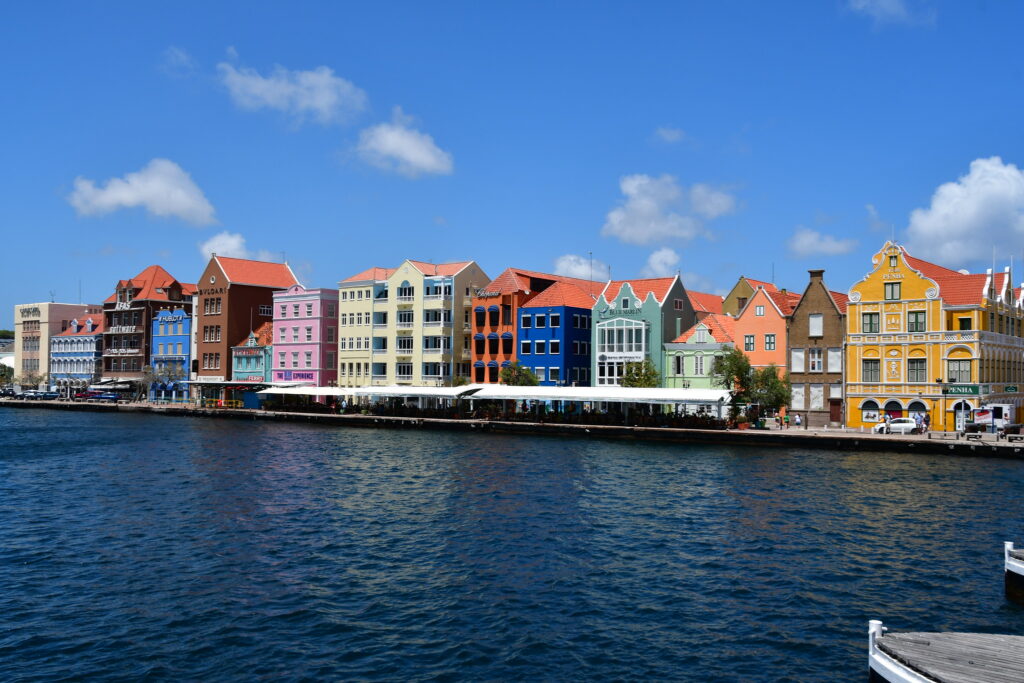 1 – Willemstad, Curaçao
Photography: The buildings have a very colorful Dutch / Caribbean pastel color scheme which makes for some unique and colorful pictures. I also remember seeing some large murals on some of the buildings. There's no place that looks quite like Willemstad.
Shopping: Great, especially in the Punda district, pictured above. There is a Delft store within walking distance of the port which is definitely worth a stop.
Local Culture: Cool, and very unique. You'll quickly learn the Papiamentu expression "Dushi." (Dushi means a lot of things–"sweet," "kind," "nice," "sweetheart," and other endearing things.) Make sure to walk to the Punda district, and make sure to use the Queen Juliana Bridge (a pedestrian bridge) to get there. It is super unique–the bridge moves regularly to let ships sail into the harbor. Unlike most bridges that raise and lower, this one swings out like a screen door–while you're standing on it. There's also caving experiences (hato caves), art experiences (Serena's Art Factory's Chichi Dolls), animal experiences (ostrich farm), and a lot more.
Food: Again, I barely got to try it as there's so much cultural stuff to do. One unique and very notable thing is the liquor that takes its name from the island. Curaçao liquor (and, of course, the most famous Blue Curaçao) was originally produced from the Laraha, a bitter orange native to the island of Curaçao. The Senior & Co. factory is here and makes genuine Curaçao liquor using Laraha peel. I haven't done the "Blue Curaçao" experience in the Punda district, but I did tour the factory. (Tiki nerds like me should make it a point to take the Senior & Co. Blue Curacao factory tour.)
Beaches: We didn't go (there's so much shopping and cultural stuff to do), but I'd imagine they'd be fabulous like Aruba's.
Overall: 5 / 5