People who know me understand that I'm a real art geek. I'm an engineer, and I'd argue with anyone that engineering is art–and if it isn't, you're doing it wrong.
I define immersive and experiential art as "art that has been taken to an interactive level." The locations below are so all-encompassing the experiences you'll have at each challenge one's perspective of what art really is, and what art should really be.
In any case–these types of experience are awfully hard to describe, and I imagine that they're even harder to develop. Perhaps these experiences aren't really for everyone–but then again, no experience (or art, for that matter) is really for everyone.
Describing any of these places as "weird" would be an understatement, in my opinion. (However, at least in this case–this is a good thing.) This list will be in the order of increasing "weirdness."
Click on the entry of the "quick list" below to jump to the referenced location:
The Quick List:
Simon Rodia was an Italian immigrant who came to the United States and lived in the Seattle area and the San Francisco bay area before settling in Watts, California. He arrived in 1917 with pretty poor prospects. He was divorced, separated from his kids, and perpetually drunk. He was in his 40s and barely literate when in 1921, he decided (for reasons unknown) he wanted to build "something big."

That he did. He hand-sculpted tile, grout, empty soda bottles, and other junk into what is now quite possibly the best nationally known example of American folk art. The site is listed on the US register of historic places, and a national historic landmark. It's one of the cultural icons of the Los Angeles metropolitan area, and has had many references made to it in movies, video games, and other media. It is definitely worth checking out–if even just to drive past it.

WARNING: Sadly, this doesn't feel like a very safe part of town. If you'd like to visit, go during the day and don't do anything stupid.
Dr. Robert Barnes was an eccentric chemist who was responsible for creating Argyrol, a silver nitrate antiseptic used as eyedrops for newborns which prevented newborns from infant blindness caused by gonorrhea. Barnes eventually sold his company in July 1929–a couple of months before the onset of the Wall Street Crash of 1929 and the Great Depression.

This was rather fortuitous for Barnes–he had a lot of money in a time when many had nothing. Even prior to Barnes selling his company, he was purchasing art for his collection. Barnes focused on purchasing art for his school, which took a scientific approach to teach artists how to create art. The art that he scooped up was kind of seen as some of the more unusual art of the time, as it was rather modern, and included lesser-known artists of the end of the 19th century–artists like Cézanne, Matisse, Picasso, Rousseau, Degas, Modigliani, Seurat, Renoir, and Van Gogh. (Hey–no one's ever heard of them before, right??)

Seriously–though. This collection has more Renoirs than the entire city of Paris, France. The collection Barnes built ended up being one of the most valuable collections in the world, and is valued in excess of 20-30 billion dollars today. Putting that in perspective–if Barnes were still alive today, based only on his art collection–he'd at least be as rich as Michael Dell (the 36th richest man in the world). And that's conservative. And it isn't just the art–it's how the art is displayed. (Matisse was commissioned to paint a version of "The Dance" specifically at this museum. When he visited, he was quoted as saying that the Barnes was the "Only sane place in America to see art."

The collection today (sadly) isn't in its original location, due to some rather shady politics, but that is a whole different story. (Some may argue that the collection was "stolen" from its real home–and technically, they aren't wrong.) Admittedly, it is much more accessible in its current location, though I haven't yet seen the 'new' Barnes yet.

While we're on the topic of stealing art and eccentric art collectors…
Following her husband's sudden death in 1898, eccentric socialite Isabella Stewart Gardner had this museum built. The design was to be reminiscent of renaissance palaces in Venice. The museum is multiple-story, floor-to-ceiling art–and each room has its own theme. The place is a triumph, and the entire premise is a masterpiece.

Sadly, this location is also home to the most infamous and largest art heist (and the most valuable theft of private items) the world has ever seen. On March 18, 1990, men dressed up as policemen were permitted entry into the museum where they detained the security guards on duty and stole 13 pieces of art valuing in excess of $200 million (at the time.) Included in the heist were Vermeer's Concert, Rembrant's only known seascape, a couple of other Rembrandts, a Manet, some Degas, and some other stuff–including a couple of pieces which were relatively valueless. Today, the missing pieces would be worth far more than that. Thankfully, the thieves managed to completely ignore some far more valuable pieces hanging in the museum (like Titian's Rape of Europa) and so we can enjoy them today. As for the stolen art, the Gardner museum has left the empty frames where the art previously was–in hopes that someday the art will be returned to their original place. (There are entire books written about this heist.)

Plan on spending at least a half-day here. Its proximity to the Museum of Fine Arts Boston means that you could plan an entire weekend (or long weekend) to one block of the city–and that wouldn't be too terrible an idea, honestly. If you own any Boston Red Sox gear, wear it to the museum for a discount. (This is handy as Fenway is right around the corner from the museum.)

In case you think these locations haven't been weird enough yet–don't worry–things are about to get a lot weirder…
Can a mini-golf course be art?

Oh, HELL yes.

This combo bar-restaurant-mini-golf course is located in the Mission district of San Francisco. (Recommendation: La Taqueria within walking distance nearby is a winner also.) However, when you enter–and really, even before you enter–you'll see that it's not your typical putt-putt course.

As you walk in, you'll be able to pay your greens fees. (If you take the pink putter challenge and play with a child-sized pink putter, you'll have your picture taken and can be enshrined with your group on their pink putter wall (and / or book) of fame.)

After you have your putter, you can enjoy an interactive art installation called "sleepwalkers" where your ball goes on a quick journey before you "hit the links."

Once you walk in, the holes range from "having a distinctively unique theme" to "putting through a Rube Goldberg machine." Some holes don't involve your club whatsoever. (There's a hole named "Labrinyth" which is an old-style tilting wood maze that you tilt your ball through in order to get a better score.

The result is fabulous. You probably won't even care about your score at the end, as everyone who played is really a winner.

Also, the drinks are very good, but a bit expensive (this still is San Francisco, after all). At peak times, there may be a wait for the course. It may be better to target less-than-peak times.
Back in the early 20th century, Boyce Luther Gulley lived with his family in Seattle. He would go to the beach with his wife and young daughter, Mary Lou. While on the beach, his daughter would build sandcastles which would eventually be taken away with the tide. One afternoon, she said to her father, "Please, daddy–build me a big, strong castle someday that I can live in."

Soon afterward, Boyce learned he had contracted tuberculosis. He knew that he would be relocated to a sanatorium, but he didn't want to go–so he disappeared–immediately leaving his wife and daughter, telling them nothing. He relocated to an 8-acre plot of land in the foothills just south of Phoenix and began to build an 8,000+ square foot "castle" made from desert stone, old railroad ties, car parts, telegraph poles, and other odd parts. He died 15 years later.

So–you could imagine their surprise when his widow and daughter learned that they had inherited a large estate on the outskirts of Phoenix. Afterward, Mary Lou recalled telling her father to build her the castle… never did she figure that he would take it so literally.

Mary Lou and her mother moved in almost immediately. Mary Lou would live there for the rest of her life. There's more to the story–but I'll let you experience it when you visit.

The place is an eclectic, folk-art, unique treasure that surprises you continuously. Alone, the location is pretty impressive–but imagine being diagnosed with tuberculosis, moving across the country, and building this massive, visionary piece of art–from scratch.
We're getting to places on this list that are very difficult to describe, because they are so unique and unlike anything else.

So–what is it? It's essentially an artist collective. They designed an ornate, eclectic space in what used to be an old bowling alley. This space contains one main exhibit–"The House of Eternal Return"–which is free for you to explore.

As with the other entries on the list, I don't want to put a lot of spoilers here, but I'll say this. Basically, once you've purchased admission, you walk into this area which feels like a government warehouse and you begin to explore a house where something unnatural and alien has occurred. That may sound weird… and it is.

The installation tells a story of the family that lived there, and how it ended up in the state that it is in. iPhone / Android apps are available for your mobile device which allow you to explore the house using some augmented reality that the designers put in to help tell the story.

But–it's not all about the story. They also have a free-play arcade on the premises, and it is also a music venue.

So yeah… weird. But also awesome.

(Note: this list isn't going to get less weird as you continue reading.)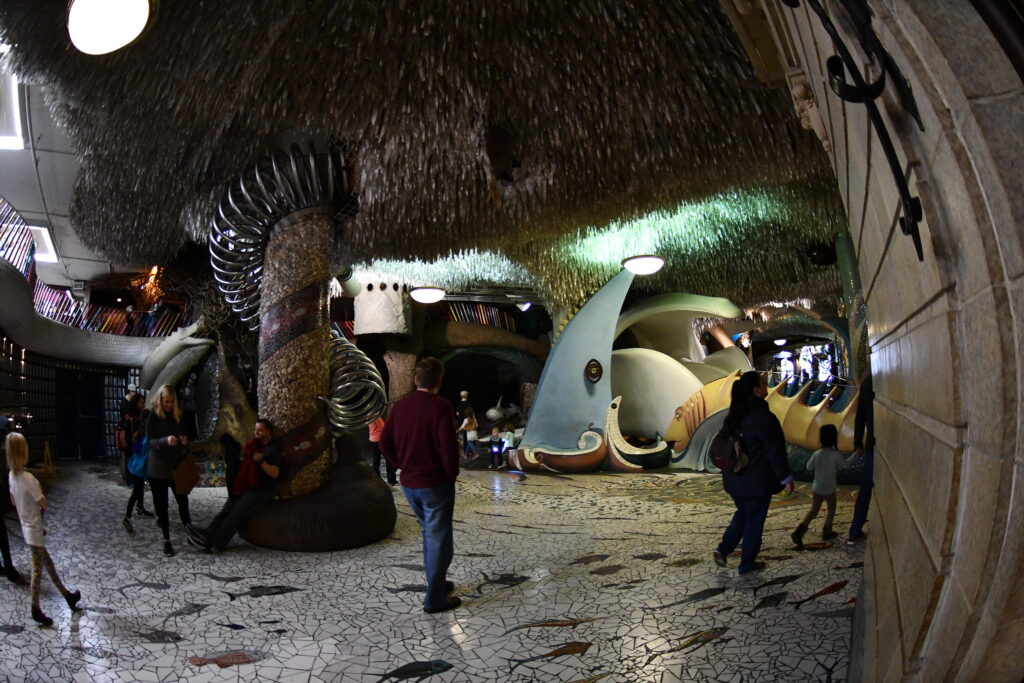 There are a few places in the world where I wish I could go back and experience it for the first time once again. The City Museum in St. Louis may be on top of that list.

I'll start by saying this–the name of this establishment is rather misleading. (In truth, the premise is almost more of a city than a museum. That may not make a lot of sense until you visit the place… but stay with me.) Basically, artist Bob Cassilly and his wife Gail bought a mostly vacant shoe factory in 1993 and started transforming it into what it is today.

There are "no maps" at the City Museum, as they'll famously tell you. This is a good thing. Once you are in, the City Museum is yours to explore. And you never know what you'll run into–you may see a circus, you probably navigate caves, and you may ride the Ferris Wheel on top of the roof of the building. Right after walking in, you'll find yourself in a room with an ornate undersea tile floor with various sea creatures artistically configured in shoots, passageways, balconies, and more. (See the picture above.)

You'll ask yourself things like, where does that hole lead? Hey–go check it out! You never know. When you go, where comfortable shoes and clothing. This place rapidly becomes a 10-story playground for adults. Photography here is pretty great, but you may want to experience it first without lugging a camera around, as some places are difficult to navigate with a lot of stuff on your person. (Your mobile phone should suffice for your first trip.) Also note that on certain nights, the City Museum is open late and exclusively for adults. In my opinion, this would make for a pretty awesome (and unique!) date.
Simply put, this place is the granddaddy of weird.

The legend of this place goes like this: Sometime in the early 20th century, Alex Jordan Jr. (the architect who built this place) shared some architectural plans for a house with American architect Frank Lloyd Wright at his nearby Talesin studio, home and school. Wright responded to Jordan by saying, "I wouldn't hire you to design a cheese crate or a chicken coop. You're not capable." On the drive home, Jordan was fuming, and thought to himself that he'd build a Japanese-style house up on one of the pinnacle rocks of the area as a spite house to Wright.

Is it true? Probably not. But it sure makes for a good story–especially when you visit the place. I mean–there's no good explanation for how something so simultaneously amazing and ridiculous could have been conceived and then built. (Maybe it has to be true? I am not sure.)

Anyhow, this place defies all logic–upon arrival, you walk through some standard museum exhibits that talk about the history of the place. Then, you walk through the original "house on the rock," and then the multitude of outbuildings built onto it.

Again, I don't want to describe much in detail here as I don't want to spoil it. But, like most places on this list, I wouldn't study it much before going. Just go and experience it. Be surprised… I mean, just looking at the map, different parts are called things like "streets of yesterday," "Tribute to Nostalgia," "Heritage of the Sea," and others. If that doesn't tell you how absurdly eclectic the place is, I won't do a better job here.

But, like all of the other places on this list–there's nowhere else like it. But, that's especially true about this place.
Other Places:
Update 8/21/2021: Since writing this article in early 2020, I've had the opportunity to visit only one place that deserves a mention on this list. In Oklahoma City, Factory Obscura – Mix Tape is an art installation installed by a local art collective to provide visitors an immersive artistic experience built around the idea of receiving or giving a mix-tape. It's a cool concept and worth visiting.
These are places that I haven't been yet that seem like they have the potential to belong on this list.
Sleep No More in New York City
The Museum of Jurassic Technology in Los Angeles
Robot Restaurant in Tokyo
Did I miss any? I'm always looking for more. If I missed any that you know of, leave them in the comments below!